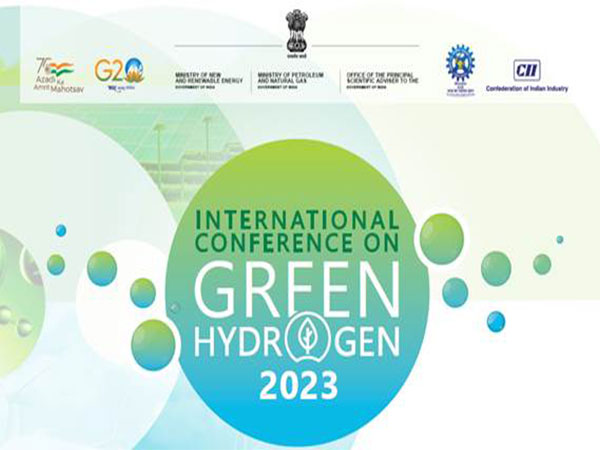 New Delhi [India], June 29 (ANI): The central government will organise a three-day international conference on green hydrogen in the national capital on July 5-7.
The event to be held at Vigyan Bhawan, the government in a release Wednesday, said will bring together the global scientific and industrial community to discuss recent advances and emerging technologies in the entire green hydrogen value chain.
"The conference will enable the sector stakeholders to explore the evolving green hydrogen landscape and innovation-driven solutions in the sector," the Ministry of New and Renewable Energy said.
Apart from domain-specific research interactions on hydrogen production, storage, distribution and downstream applications, the conference will also discuss green financing, human resource upskilling and startup initiatives.
Secretary at the Ministry of New and Renewable Energy, Bhupinder Singh Bhalla, said that the green hydrogen ecosystem is important in order to attain the basic annual 5 million tonne production target under the National Green Hydrogen Mission year 2030.
"Electrolyzer production capacity in the world is very limited, this capacity has to come up in India. And for this, it is important that we learn and adopt the appropriate technology for electrolyzer manufacturing as well as for various individual components of the manufacturing process," added Bhalla.
Meanwhile, Union Cabinet in early January approved the National Green Hydrogen Mission, aiming to make India a global hub for the production, utilization, and export of such technologies.
The green hydrogen mission will gradually lead to the decarbonization of industrial, transport, and energy sectors, a reduction in dependence on imported fossil fuels, among others.
India meets a sizable portion of its energy needs through imports, and this green hydrogen mission is seen as an avenue to reduce the dependence of imported fuel.
The initial financial outlay for the mission is pegged at Rs 19,744 crore, which includes research and development activities.
Under this mission, the government aims to raise annual green hydrogen production to 5 million tonnes, renewable energy capacity addition of about 125 gigawatts, attract over Rs 8 lakh crore in investments, lakhs of jobs, and most importantly over Rs 1 lakh crore cumulative reduction of fossil fuel imports.
In the Budget Speech 2021-22, Finance Minister Nirmala Sitharaman proposed to launch a National Hydrogen Mission for generating hydrogen from green power sources.
India has a huge edge in green hydrogen production owing to its favourable geographic conditions and the presence of abundant natural elements.
In his Independence Day speech on August 15, 2021, Prime Minister Narendra Modi announced the launch of the National Hydrogen Mission.
"Of every effort being made by India today, the thing that is going to help India with a quantum leap in terms of climate is the field of Green Hydrogen. To achieve the goal of Green Hydrogen, I am announcing the National Hydrogen Mission today with this tricolour as a witness," Prime Minister Modi had said from the rampart of Red Fort. (ANI)