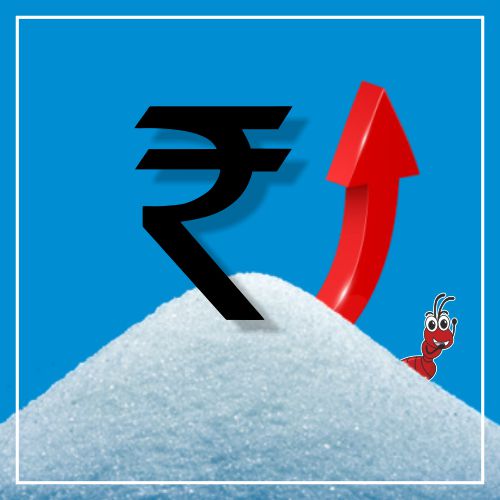 The sugar industry has been seeking a hike in the Minimum Selling Price of Sugar to realize maximum revenue from sales at increased MSP that will enable sugar millers to clear cane arrears and also improve operational profit margins compared to the current levels. However, there has been no decision from the Centre. The decision on the same is likely to be taken in the next cabinet meeting.
According to reports, a recommendation has been made by NITI Aayog task force for a one-time hike in MSP of sugar from Rs. 3100/Qntl. to Rs. 3300/Qntl taking into account the Fair Remunerative Price (FRP) of sugarcane raised from 285/Qntl. to Rs.295/Qntl. for the 2020-21 season.

According to the latest release by the Ministry of Consumer Affairs, Food & Public Distribution, position of cane arrears for season 2018-19 as on 28.05.2020 is Rs.22970 crores (inclusive of SAP & FRP) whereas for the current season 2019-20 (October-September) as on 28.05.2020 is Rs.17134 crores basis FRP basis and Rs.21238 basis SAP.
Recently, Former Union agriculture minister and Nationalist Congress Party leader Sharad Pawar also wrote to the Centre seeking urgent need to intervene to bail out the sugar industry from crises aggravated exponentially by unprecedented nationwide lockdown in the wake of the coronavirus pandemic. In the immediate relief measures suggested to the center increase of MSP of sugar ranging from Rs.3450 to Rs.3750 with grade wise increment had been sought.
Provision of funds for clearing export incentives and buffer stock expenses pending from 2018-19 and 2019-20, provision of one time grant of Rs.650 per tonne on average cane crushed during the last two years, conversion of outstanding working capital into short term loan and rescheduling all term loans for 10 years with a moratorium of two years on the lines of Mitra Committee recommendations were also the other relief measures suggested by Sharad Pawar.
 To Listen to this News click on the play button.