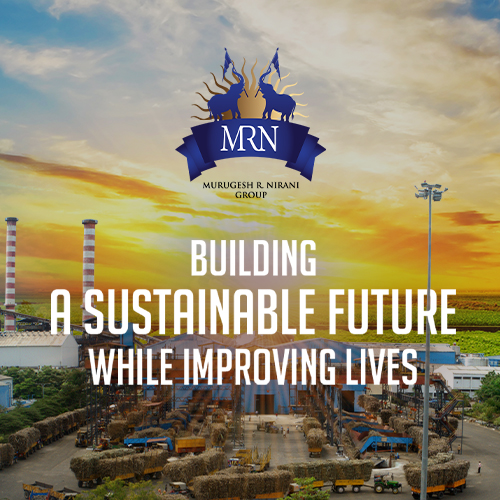 In an attempt to reduce the nation's dependence on oil imports, India has ambitiously set a target of ethanol blending with petrol by the year 2020, and 20 per cent ethanol blending target by 2025. While sugarcane is one of the most composite raw materials of producing ethanol, the majority of the feedstock for ethanol in India comes from the sugar industry. On the other hand it also busts a gut to bring down the sugar glut in the country. The Government has been proactively encouraging and boosting the number of mills and standalone distilleries to drive more output for ethanol production.
The sugar industry is paving its way to enter a new era of energy production with stimulating schemes that drive towards ethanol production. Several mills across the company are gearing on expansion and significant decline in sugar production. MRN Group a business conglomerate deep rooted with farmer-centric businesses is constantly engrossed in betting on innovation, growth, betterment of the community around and reimagining the future of the world. MRN Group has already marked itself as India's largest ethanol manufacturer but is now on a verge to make it's stint as a major ethanol producer in Asia albeit gradually. The company's sugar manufacturing business consists of a consolidated capacity of 70,000 TCD and is currently producing 6 lakh liters of ethanol per day. With a goal of producing over 450 Million liters per annum, MRN Group is geared to drive the country forward, steered with sustainability.
In a conversation with ChiniMandi News, Mr. Vijay Nirani, Managing Director – MRN Group shared his views. He said, "Today, our country envisages an indicative target of a 20% ethanol blend in petrol by 2025, while it currently stands at 5-7%. And we want to be in this vision, with our biggest number game ever. Today, our venture TruAlt Energy produces close to 6 lakhs litres of ethanol per day, and is on track to producing 2 million ML per day by 2022-23 – because this is the kind of abundance we must create and live amidst. The abundance of good energy that assures the future generations of a better Earth than we inherited. Govt. of India envisions a supply target of 300-350 crore litres of ethanol in 2021 in order to achieve an 8% blend level with petrol. But we at MRN Group, through TruAlt Energy, are committed to bridging this demand-supply gap – by estimating a supply of over 42 crore litres of ethanol per annum, thereby propelling us to over 7% of total contribution, assuming the industry growth."
In MRN Group, we have over 4000 in-house tractor and trucks which are used to supply sugarcane and other materials. Now, these currently operate on HSD, but we are absolutely persistent in taking giant strides towards the shift – of ethanol being used as the standalone fuel eventually. Today we are the largest supplier of Ethanol in India, but tomorrow we want to ensure that the largest segment of our population switches to Ethanol and truly warms up to the climate crisis." He further added.
TruAlt Energy was established with a goal to provide energy solutions to cater to the demands of a country's need to become a self-reliant nation, especially in the domain of energy needs. This can be achieved by not just cutting down the dependence on fuel imports but also by creating an environment of abundance with respect to cleaner sources of energy with lesser carbon emissions – in order to facilitate the envisioned shift, seamlessly. This would not only translate into an improvement in our FOREX, but complete alignment with the National BioFuel Policy, reinstates the fact that we are in this together, as a nation.
Click here to watch how MRN Group has taken up the ethanol manufacturing initiative under the EBP program and the National Biofuels policy of the GOI.
To know more about MRN Group visit www.niranigroups.com
Connect with MRN Group on social media LinkedIn, Twitter, Facebook