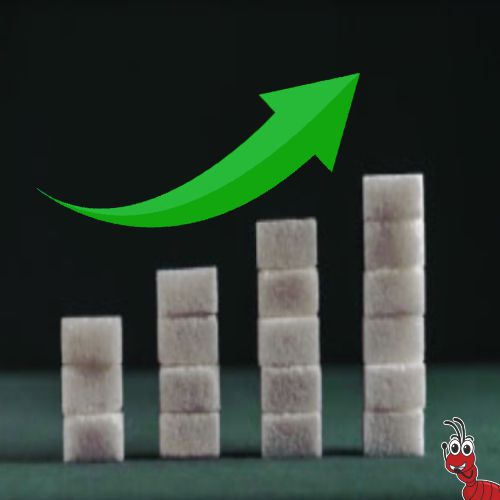 Domestic sugar prices have been shooting upwards since the last two weeks. The market sentiments have been quite positive with good demand witnessed and millers closing sales before than usual. The scenario has come with the dawn of the holy Hindu month "Shravan"' which brings in many auspicious days and prominent festivals across the country. The easing in state-wise imposed lockdowns have also brought in the routine household demand. Yesterday, Maharashtra state witnessed a major unlock on the state-imposed lockdown after several months that has given a sigh of relief majorly to hotel and restaurant businesses.
In conversation with ChiniMandi News, Mr. Jitubhai K. Shah – Director, JK Enterprises, Kolhapur; a prominent and leading sugar trading firm shared his views on the domestic sugar market scenario. He commented, "The domestic quota for sale allocated in April 2021, May 2021, June 2021 and July 2021 was 22 LMT, the quota allocated for August 2021 (21 LMT) was lower than expected (24 LMT) considering the dawn of the festive season."

"The market sentiments drastically changed and the markets nationwide started witnessing aggressive demand. After the announcement of quota prices of sugar have gone so high around ₹300 to ₹400/quintal, this event has taken place after for the first time after the Government of India implemented the Minimum Selling Price (MSP) of sugar to ₹2900/quintal, The sale of sugar has accounted for almost 75 to 80% of sales of the quota in Maharashtra whereas around 70 to 75% in Uttar Pradesh within the first 15 days of the announcement of the August quota leading to a tightness of supply in the market and more than 50% emptiness in the pipeline." Shah further added.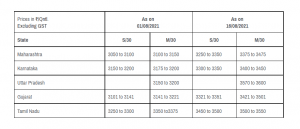 Mr. Jitu Shah also said that many may not believe this, "But this has been espoused by many people for many years that when there are five Tuesdays (Mangalwar) in a Hindu calendar month the previous fortnight's activity completely contradicts during the upcoming period. The upcoming Hindu calendar month 'Bhadrapad' consists of five Tuesdays which is likely to bring a downfall in the market after witnessing such a fire in the current Hindu month 'Shravan'. "मतलब, यदि हमने श्रावण महीने में चीनीके भावमें बढ़ोतरी देखि हो, तब भाद्रपद महीनेमें हमें भाव गिरते हुए नझर आ सकते है."
[Typically means, "If we have seen an increase in the price of sugar in the month of Shravan, then in the month of Bhadrapada we are likely to see a downfall in the sugar prices."] 
The international market has also witnessed the sugar market skyrocketing last week. To know more click here, read our latest episode on the series of World Sugar Market's Weekly Comment.

To receive ChiniMandi updates on WhatsApp, please click on the link below.
WhatsApp Group Link