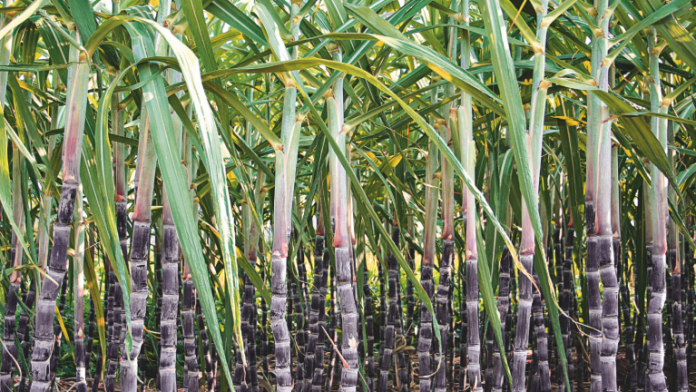 Image Credits: www.dinheirorural.com.br
India's cane arrears have jumped by 10 per cent in March from previous month due to sugar mills' inability to pay farmers on sustained fall in sugar prices throughout this crushing season.

The apex industry body, the Indian Sugar Mills Association (ISMA) estimates total arrears at Rs 160-170 billion as of March-end as compared to an estimate of Rs 140-150 billion February end. ISMA, however, does not store cane arrears data on the financial year basis. The Union Minister of State for Food and Public Distribution C R Chaudhary in the Parliament, however, had said that sugar mills owe Rs 139.32 billion by January 31, 2018.
Mounting cane arrears may prompt farmers to look for alternative crops for sowing in coming years. Farmers normally take decision for sowing of crop based on their realisation from last year. Historically, farmers have shifted to more remunerative crops for sowing next season in case the price of their produce declines this year.
"Considering lower sugar realization from domestic sales as well as depressed global sugar market, sugar mills are unable to generate sufficient funds for payment of cane price to the farmers on time. Since sugar contributes 80-85 per cent of mills' income, sustained fall in its prices hit mills' ability to pay cane farmers resulting into rising cane arrears," said Abinash Verma, Director General, ISMA.
Meanwhile, prices of the benchmark sugar M declined by 5 per cent in March in the Vashi wholesale mandi near here to Rs 3198 a quintal from Rs 3368 a quintal earlier.
The ex-factory price of sugar has also declined between Re 100 – 150 in March to trade between Rs 2850 a quintal and Rs 3000 a quintal in Maharashtra and Uttar Pradesh respectively.
ISMA estimates cane arrears at Rs 72 billion in Uttar Pradesh and Rs 25 billion in Maharashtra by March 31, 2018. Cumulative cane arrears are estimated at around Rs 40 billion in other major sugar producing states including Bihar, Punjab, Uttarakhand, Haryana, Tamil Nadu, Gujarat and Andhra Pradesh and Telangana.
The industry body estimates India's total sugar production at 28.18 million tonnes by March 31, 2018, nearly 33 per cent higher than 18.89 million tonnes produced by the same time last year. The industry estimates India's total sugar output to rise by 45 per cent to 29.5 million tonnes this year from 20.3 million tonnes last year.
Out of 524 sugar mills which were operating during the current season, 193 mills have stopped crushing and remaining 331 sugar mills were in operation as on March 31, 2018. However, it is understood that few more mills in Maharashtra and Karnataka might end their crushing in a couple of days.
Due to an unexpected surplus availability of around 4.5 million tonnes of sugar over and above the required closing balance during the current 2017-18 season, domestic ex-mill prices have crashed once again and all India average ex-mill sugar price is hovering about Rs 3000 per quintal. This is already about Rs 500 to 600 per quintal below the cost of production of sugar.
Though the government has announced minimum indicative export quota (MIEQ) of 2 million tonnes for exports to move out some surplus stocks out of the country, due to depressed world sugar market, sugar importers are offering free on board (FOB) price at the port of around $ 350 a tonne for exports.