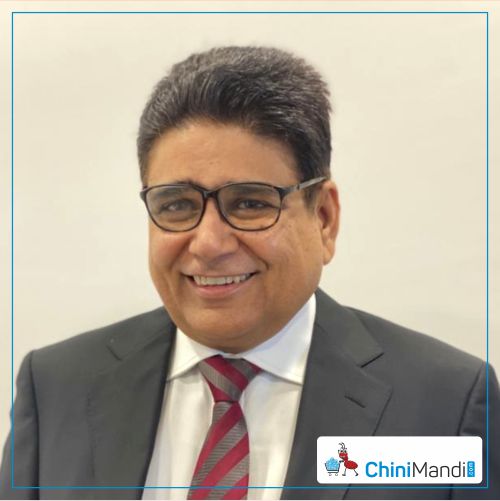 Sugar mills and distilleries are ramping up capacity in line with India's Ethanol Blending Programme (EBP) with a target of blending 20% ethanol with petrol by 2025. According to the latest report by Indian Sugar Mills Association (ISMA), against a requirement of 459 Cr liters for 10% ethanol blending, OMCs have so far allocated about 366 Cr liters of ethanol for supply in ESY 2021-22. Further, OMCs had floated the 3rd EOI indicating requirement of about 94 Cr ltr on 25th December, 2021, for which about 30 Cr liters of offers have been received by them. Currently, OMCs are examining the bids and are expected to make the allocations in a few days' time.
In a recent conversation with ChiniMandi News, Mr. Vijendra Singh – Executive Director & Dy. CEO, Shree Renuka Sugars and Managing Director – KBK Chem shared his views on how he sees the sugar sector evolve towards the energy sector. He said, "I have been in this industry for a long time and have experience of about forty years in the sugar & ethanol business. I have had the opportunity to manage large sugar businesses in Uttar Pradesh, Maharashtra, Karnataka and in Brazil also. I had a very interesting tenure in Brazil as Country Head of Renuka's Brazilian Companies for about four years. I have seen this sector in ups and downs quite many times. However, now I see a very bright future for the Indian sugar industry as with the ethanol policy in place the industry can have a sustainable business model. The demand-supply mismatch of sugar which is a perpetual issue is being resolved and we are progressing in the right direction.
Ethanol is definitely a game changer for the sugar industry. Maximizing ethanol production will help in maintaining the country's sugar demand-supply, reduce carrying costs for the mills, farmers will receive timely cane payment and will boost sugarcane production. With all this, we must not forget that this will need investment and strong government support so that ethanol continues to be economically beneficial over sugar and needs its prices to always move in tandem with the Fair & Remunerative Price (FRP) of sugarcane and Minimum Selling Price (MSP) of sugar. With investment into the ethanol sector, I see that the industry will continue to grow and contribute in a big way to India's economy and help in the energy security of the nation. You will see more investment in the ethanol sector in India."
Commenting on what steps the Government of India should take to develop sugar and ethanol sector, Singh answered, "There are a few aspects that the Government may consider in supporting the Sugar & Ethanol sector to be robust, such as continuing to keep the ethanol prices attractive than sugar price so that industry can continue to invest, augment ethanol capacity, and maximise ethanol supply. The bottlenecks of logistics and storage at OMCs need to be resolved. The Government should allow distilleries to dispense ethanol at local level. This will avoid unnecessary transport of ethanol to distant depots and getting back blended fuel. This will also save costs for transportation and save diesel consumption."
"Opting for flexi vehicles as being practiced in Brazil which will help achieve a higher blending ratio in states where ethanol is produced. Ethanol Transport cost reimbursement is low and should be paid on actual basis. States should also consider capital subsidies on ethanol plants. A free movement of C molasses, B heavy molasses and syrup for production of ethanol should be allowed which is still under tight control of the excise department and is a bottleneck for ethanol production and supply." He further added.
There have been talks between competitiveness of grain-based ethanol and sugarcane-based ethanol, commenting on the same Mr. Vijendra said, "Grain ethanol does not compete with sugar-based ethanol but is a supplement to help achieve the government's target of supply of 10 billion litres by 2025. Sugarcane is a steady and reliable feedstock for ethanol while grains are more susceptible to weather conditions and market dynamics. Hence grain may be seen as a supplementary feedstock to sugarcane. However, the country will need ethanol from both the feed stocks to achieve the blending targets."
Brazil has a very successful ethanol story, India can learn alot, speaking on the aspects that can be considered Mr. Singh shared, "Brazil has come a long way and has stabilised processes & systems for production and distribution of ethanol. I can list some major plus points of Brazil as under:
a) Compulsory ethanol blending
b) Production of Flex cars
c) Free marketing for ethanol and no excise control
d) Bigger size of industry and bigger cane farm size
e) Market driven pricing for sugar/ethanol
Further, I believe that India is moving ahead on the above lines. However, we have our own limitations.
Sharing on how Shree Renuka Sugars Ltd. and KBK Chem Pvt. Ltd is aligning with the Nation's goals he said, "At Shree Renuka Sugars we are already expanding the ethanol division and are expanding 1,400-kilo litres of ethanol per day capacity by October 2022.
On the other hand, at KBK Chem-Engineering Pvt Ltd, Pune which is a part of Shree Renuka Sugars and is one of India's leading EPC Solution and Technology provider for Distilleries, Bio-ethanol, Brewery, Sugar, Chemical processing, Edible Oil, Fish Meal processing and Co-generation plants & Water and Waste Water solutions. KBK Chem has indigenously developed 'K-Super' which provides higher efficiency along with steam and power saving and has executed a number of EPC projects and is now a popular name in India, Asia, Africa & South America using the same. KBK is a unique company which can do end -to-end EPC for distilleries starting from project conceptualisation, civil works, distillery process house, power plants and water and effluent treatment systems.
We have also supplied distilleries with various feedstock for the distillery like molasses, sugarcane juice, sugar beet, grain, sweet sorghum juice and cassava. You will be happy to know that KBK supplied and commissioned a juice ethanol plant way back in 2011-12 in the Philippines. KBK has been helping Renuka to ramp up its ethanol capacity from 720 KLPD to 1400 KLPD and executing one of the biggest projects of a 500 KLPD distillery in India on EPC basis. KBK has also helped distilleries achieve Zero Liquid Discharge (ZLD)."
When asked on any other vision that he would wish to share with us on ethanol, he said, "Yes, I would like to take this opportunity to coin a term "Cane for ethanol "it means we will grow cane exclusively for ethanol production in the region where cane is not traditionally grown, I will elaborate more on this subsequently."