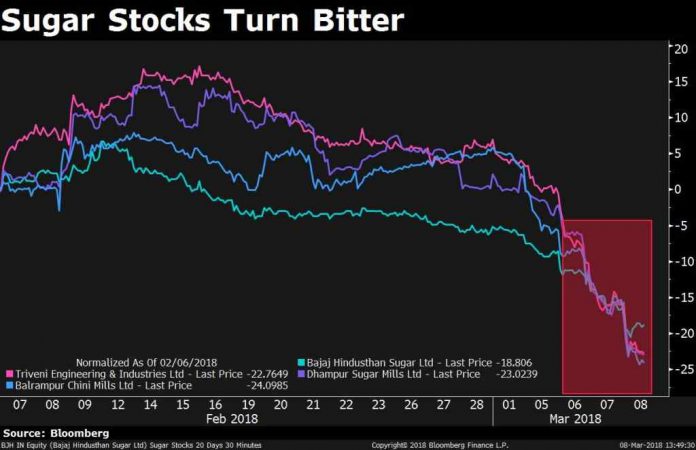 Image Credits: Bloomberg Quint
India's sugar mills may be entering a fresh down-cycle as the government's subsidy policy has led to a glut at a time when prices are down due to a global oversupply.
Domestic output is about to rise to a record on the back of a poor Fair Remunerative Price policy, M Manickam, chairman of Sakthi Sugars Ltd., said in an interview with BloombergQuint.
"The Government of India feels like increasing the FRP will solve all the problems of farmers but they will only produce more crops, and no one will be there to buy."                M Manickam, Chairman, Sakthi Sugars
Uttar Pradesh and Maharashtra, the largest cane growing states, announced higher prices for the crop. That led to overproduction, he said.
Shares of sugar companies fell an average 16 percent this week, Bloomberg data shows. Indian Sugar Mills Association revised the 2017-18 sugar production upward by about 13 percent to a record 29.5 million tonnes. The country produced 23.05 million metric tonnes in the current season, 42 percent higher than a year ago, on higher acreages.
The global market is also not in a position to absorb the glut, Manickan said. Worldwide supply is expected to surpass demand by 6 million tonnes this season and another 4-6 million in the next, Bloomberg reported quoting Cofco International Ltd., the trading arm of China's largest food company. Global sugar prices have declined about 28 percent in the last one year.
The only solution is to revise FRP for sugarcane, which currently stands at Rs 2,550 per tonne, downwards, Manickan said.
The writing is on the wall. We have to reduce the cane prices to reduce the acreage. Otherwise, this problem will not be solved.
M Manickam, Chairman, Sakthi Sugars
The FRP makes the current price 25 percent higher than Finance Minister Arun Jaitley's commitment of 50 percent over an above the cost price, Abinash Verma, Director General of ISMA said in an interview.
Sugar mills are looking to dispose the surplus stock, Verma said. He explained that mills are expecting an announcement from the government, similar to a programme it had announced in 2015-16, where sugar mills were asked to export a total 40 lakh tonne of sugar divided equally among them. All benefits from the government were linked to the fulfillment of that quota.
A similar announcement now would be key to where sugar prices go from here on. "If an announcement comes that every sugar mill is given a quota to export then I believe that prices will get arrested at the current level," Verma said. "But if there is no announcement on exports, I fear prices will fall."
The failure to take appropriate steps could see sugarcane arrears rise to a record, Manickam said. He estimated current arrears at close to Rs 5,000 crore.
With the cost of production at Rs 34 a kilogram higher than the selling price of Rs 30, sugar companies may decide to hold on to inventory. Even production of ethanol to use surplus sugar is a loss-making option for mills, he said.