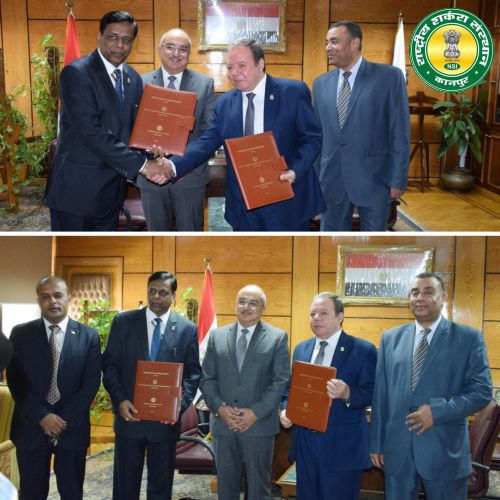 In pursuit of making its presence felt globally, National Sugar Institute, Kanpur has marched one step further. During the his visit to Egypt, Director, National Sugar Institute, Kanpur signed a MoU between the Institute and Faculty of Sugar & Integrated Industries Technology, Assiut University, Egypt.
As regards Assiut University, it is the fourth biggest university of the Egypt in which about 84,000 students are studying at present. As per the terms and conditions of the MoU, National Sugar Institute, Kanpur in association with Assiut University shall organize "Refresher Courses" and "Customized Training Programmes" for the in-service technical personnel of the sugar factories in Egypt to enhance their knowledge in the areas of newer developments in sugar processing and also about the standard operating procedures to be adopted for enhancing efficiency. Side by side, the two institutes shall also work on development of newer techniques for processing and also value added products so as to enhance the revenue earnings of the sugar factories. Felicitating Prof. Mohan on this occasion, Prof. Tarek Abdalla El-Gammal, President, Assiut University expressed his confidence that such association with National Sugar Institute, Kanpur shall go a long way in meeting requirements of the technical manpower required for Egyptian sugar industry and also in enhancing much required technical efficiency of the sugar plants.

In conversation with ChiniMandi News, Prof. Narendra Mohan, Director, National Sugar Institute, Kanpur informed abpout this association. He said, "In Egypt, sugar is produced both from sugarcane and sugarbeet however, due to various reasons, the cost of sugar produced from sugarcane remains higher by around 20% from sugar beet and thus cane sugar factories are in trouble. The situation can be improved by enhancing the technical efficiencies of the cane sugar units and also by enhancing income through utilization of by-products in a better manner. The potential of by-product utilization is much wanted which is matter of serious concern. At present, Egypt produces sugar about 2/3rd of its annual consumption and imports about 1.0 million tonnes to meet requirements, hence there is greater scope for expansion & modernization of sugar industry in Egypt.
With signing of this MoU, National Sugar Institute may play a dominant role in the development and diversification of the sugar industry in Egypt, opined Prof. Mohan.
On this occasion, he also addressed the delegates of sugar factories from Egypt, staff and students of Assiut University on the topic, "Sugar Industry- Sugar & beyond" where he stressed upon production of multi-value added products in a sugar factory for economic sustainability.