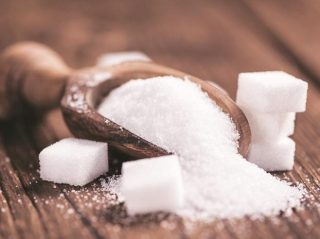 India's sugar output is likely to decline marginally this year due to the possibility of lower cane yields. The drop in output is being attributed to white grub infestation in Maharashtra and water logging in the cane fields of Uttar Pradesh.
Committee members of ISMA are scheduled to meet on November 29 to arrive at the final sugar output figure for the current season, which started in October. However, preliminary indications suggest that the apex sugar body's members would lower their sugar production forecast to around 32 million tonnes for the current crushing season from 32.25 million tonnes the previous season. The industry body had put India's sugar output between 35 and 35.5 million tonnes in its First Advanced Estimate released in July.

The decline in sugar output would be beneficial for cane crushing mills, which are apprehensive about starting production for the current season, amid fears of a worsening supply glut. India is estimated to have started this season with over 10 million tonnes of surplus inventory, resulting in lack of storage space for the new season output.
"A couple of major cane growing regions in Maharashtra, including Marathwada, have received poor rainfall this season. Select cane growing regions of Karnataka have also received deficient rain this monsoon season. Mild white grub infestation was reported in a few cane growing pockets in these two states. Apart from that, cane yield and sugar recovery are expected to decline in some parts of Uttar Pradesh due to water logging," said a senior industry official on a condition of anonymity.
The Maharashtra government, meanwhile, has started assessment of the overall impact of deficient rain in the state. Various reports suggest around half the states 45,000 villages are facing drought.
Impact of white grub \is higher in Sangli, Solapur and Ahmednagar. In some other pockets, however, it is slightly lower. Agencies have already started assessing the overall impact of infestation in Maharashtra and Karnataka' and decline in yield due to water logging in Uttar Pradesh. The final impact is yet to be figured out.
Sanjay Khatal, Managing Director, Maharashtra State Co-operative Sugar Factories Federation Ltd, however, believes that white grub infestation is a major issue in Maharashtra. "The dry spell in September may also impact overall sugarcane yield. But the assessment of damage is yet to be done. Unfortunately, a substantial part of Maharashtra is facing drought. Hence, we estimate a large quantity of cane might be diverted in favour of fodder resulting in to lower availability for crushing," he said.
While cane arrears stand at around Rs 2 billion in Maharashtra, in Uttar Pradesh they are estimated at around Rs 100 billion.
Estimating higher output, sugar prices in India moved in a narrow range of Rs 29.80-30.50 a kg over the last one month as against the Centre's minimum selling price (MSP) of Rs 29 a kg.
Meanwhile, cane acreage in Uttar Pradesh is estimated to have risen to 2.34 million hectares (ha) from 2.33 million ha in 2017-18 SS. However, sugar production in Uttar Pradesh in 2018-19 SS is estimated to decline now from its initial estimates of 13–13.5 million tonnes. Total sugar output in Uttar Pradesh was reported at 12.05 million tonnes in 2017-18 SS.
Cane area in Maharashtra has risen about 25 per cent in 2018-19 SS to 1.14 million ha in 2018-19 from 0.92 million ha in 2017-18.