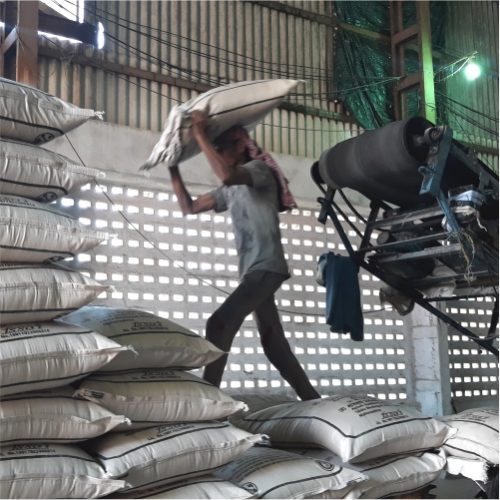 ChiniMandi, Mumbai: According to industry body ISMA (Indian Sugar Mills Association) India's sugar production in 2018-19 sugar season till 31st May 2019 has reached 327.42 lakh tonnes which is 6.41 lakh tonnes higher than what mills produced in 2017-18 on the corresponding date last year which was 321.01 lakh tonnes. The production being higher this is year is mainly because the sugar mills in Maharashtra, as well as Karnataka, started crushing of sugarcane early this year.
The production of sugar in Maharashtra till 31st May  2019 was 107.19 lakh tonnes,  compared with 107.21 lakh tonnes produced last year same period. In Uttar Pradesh, sugar mills produced 117.91 lakh tonnes of sugar till 31st May 19 i.e. fall of 1.64 lakh tonnes of last year. In Karnataka, sugar mills have produced 43.25 lakh tonnes of sugar 31st May 2019 as compared to last year period when it produced 36.54 lakh tonnes which is an increase of 6.71 lakh tonnes. In Tamil Nadu, the sugar production rose by 1.68 lakh tonnes with a total figure of 7.11 lakh tonnes compared to 5.43 lakh tonnes last year. Gujarat has produced 11.21 lakh tonnes as compared to 11.05 lakh tonnes last year. In Andhra Pradesh and Telangana, the sugar production has been 7.65 lakh tonnes as compared to 7.31 lakh tonnes last year.
In Bihar, Uttarakhand, Punjab, Haryana, Madhya Pradesh & Rajasthan, the sugar production is 8.42 lakh tonnes, 3.97 lakh tonnes, 7.80 lakh tonnes, 6.90 lakh tonnes, 5.48 lakh tonnes and 0.10 lakh tonnes as compared to 7.16 lakh tonnes, 4.18 lakh tonnes, 8.23 lakh tonnes, 8.37 lakh tonnes, 5.50 lakh tonnes, 0.07 lakh tonnes as compared to the same date last year.
The production of other states accounts to 0.43 lakh tonnes as on 31st May 2019 compared to 0.41 lakh tonnes as of last year.
The Government has increased the Minimum Selling Price of sugar from Rs.2900/qntl to Rs.3100/qntl which will generate additional revenue for the sugar mills. It will also aid sugar mills to clear the mounting cane arrears.