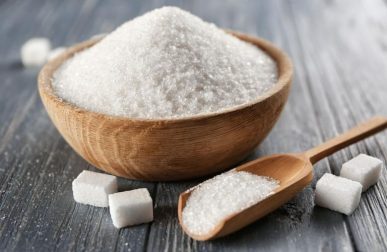 The sugar industry has appealed to the Union government to increase the minimum selling price of sugar to ₹36/kg as it anticipates the total surplus in sugar production to go up to 19 million tonnes (mt) by next year.
"Currently, the wholesale price of sugar hovers around ₹32 a kg. We want the government to increase it to ₹36. This is what the industry requires from the government to make it competitive. It can even remove all the other sops it has extended so far," said a representative of the Indian Sugar Mills Association on the sidelines of an international sugar conference in Gurugram, on the outskirts of Delhi.

"Similarly, the government should make it compulsory for all sugar mills in the country to export a total of 7 mt by next year, at whatever price is available globally. Mills which fail to do so could be punished accordingly," the representative said.
"India's sugar production next year is estimated to be 35.5 mt, almost 9.5 mt more than what is normally consumed domestically in a year. On top of that, we have a surplus of 7 mt this sugar season and a carry-forward stock of 4 mt. This surplus is equivalent to what is consumed over nine months in the country," Gaurav Goel, ISMA President, and Managing Director of Dhampur Sugar Mills, said in a keynote address at Kingsman Asia Sugar Conference being held here.
The key challenge for the industry will be to store stocks, which are expected to swell to 30 mt by April next year, he said.
According to Marcos S Jank, CEO of Asia-Brazil Agro Alliance, by next year India will overtake Brazil as the world's largest producer of sugar as Brazil has been bringing down its sugar output to increase production of ethanol, which is used in fuel blending. "Today 60 per cent of cane juice produced in Brazil is used for making ethanol," Jank said.
But, Brazil will continue to be the biggest player in global sugar exports, even though its total quantum of exports is set to fall to a little over 20 mt in 2018-19 from from around 30 mt in 2016-17.
Export struggle
India, on other hand, has been struggling on the export front. Even though the government directed sugar mills to export 2 mt in the current sugar season, which comes to an end by the month-end, sugar exported so far hovers around 400,000 tonnes, which is 20 per cent of the target.
"The problem is that global prices of sugar are too low. We have requested the government for a slew of measures. If we are allowed to sell 80 per cent of total production domestically at ₹36 a kg, it can offset the losses that the mills would incur on the export front. Currently, the global prices of white sugar are around ₹17," an industry source said.
Unless steps are taken immediately, the sugarcane arrears may balloon to ₹45,000-50,000 crore, which would prove to be a dynamite in an election year, he said.