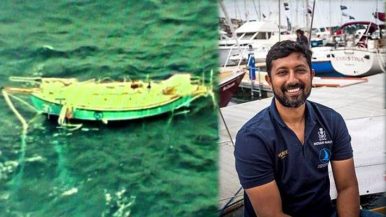 Injured Indian Navy naval officer Abhilash Tomy was rescued from sea, and was shifted to the French vessel Osiris on Monday afternoon. The Indian Navy spokesperson said that Abhilash was rescued safely. Abhilash will be transferred to the Australian Navy's HMAS Ballarat soon, according to News18 Kerala.
"HMAS Ballarat is on its way assist an injured solo yachtsman, approximately 1800 nautical miles off the WA coast. The sailor, an officer in the Indian Navy is understood to have suffered a serious back injury when his ten metre vessel, "Thuriya" was de-masted in extreme weather," the Australian Navy tweeted.

Abhilash suffered a back injury when he was sailing on the vessel 'Thuriya', representing India in the Golden Globe Race 2018. Thuriya got dismasted in rough weather condition on Friday when Abhilash was in the South Indian Ocean, approximately 1,900 nautical miles WSW from Perth and about 2,700 nm from Cape Comorin.
"The Australian Rescue coordination centre at Canberra is coordinating the rescue mission in conjunction with many agencies including the Australian Defence Department and the Indian Navy. Continuous watch over the boat is being maintained by Indian Navy and RAAF aircraft till the rescue is completed," a note released earlier by the Indian Navy.
In his last text message, Abhilash indicated that he is safe on the boat. However, he said that he was immobile due to the back injury.
Abhilash became popular when he completed a solo circumnavigation across the world under sail in 150 days. This was back in 2012 when he sailed on Mhadei, his boat, and faced the seas. "This has not only been the most thrilling experience of my life, but it was also something that I had wished would never end," Abhilash had told in an interview after the journey.
"We (Mhadei and I) faced many difficulties, but there was a bliss in the solitary existence that made returning undesirable," he said.