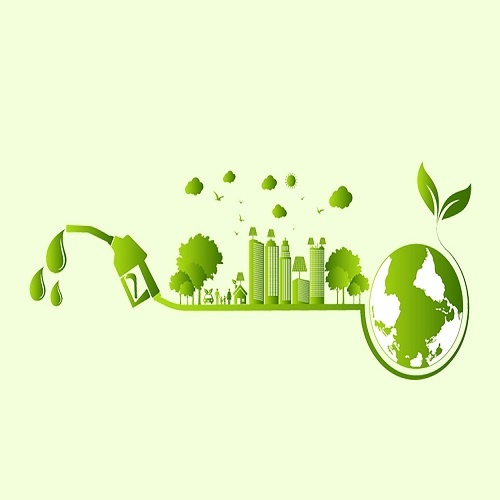 The Government of India is organizing an International Conference on Green Hydrogen (ICGH-2023) during 5th – 7th July 2023 at Vigyan Bhawan, New Delhi, to bring together the global scientific and industrial community to discuss recent advances and emerging technologies in the entire green hydrogen value chain. The conference will enable the sector stakeholders to explore the evolving green hydrogen landscape and innovation-driven solutions in the sector.
The conference is being organized by the Ministry of New and Renewable Energy, in partnership with the Ministry of Petroleum and Natural Gas, Council of Scientific and Industrial Research and Office of Principal Scientific Advisor to Government of India.
The fundamental aim of the Conference is to explore how we can establish a Green Hydrogen ecosystem and foster a systemic approach for meeting the global goals for decarbonization through Green Hydrogen. Apart from domain-specific research interactions on hydrogen production, storage, distribution and downstream applications, the conference will also discuss green financing, human resource upskilling and startup initiatives in this area. The conference will enable to share and learn from international best practices in the sector.
Check out the conference website here: https://icgh.in. A brief presentation on the conference can be found here. The conference brochure can be found here and the conference flyer here.
Various plenary talks, expert panel discussions and technical deliberations held at the conference will provide domestic and international participants from the industry and research communities an opportunity to dive deep into these national and global priorities, in line with the objectives embedded in India's of National Green Hydrogen Mission, a mission launched by the Government of India to help achieve India's target of Net Zero by the year 2070.
Addressing a curtain raiser press conference on the international conference, the Secretary, Ministry of New and Renewable Energy, Bhupinder Singh Bhalla said that outreach and industry partnership are integral parts of the National Green Hydrogen Mission. The Secretary underlined the role of industry in various steps of the value chain, such as production, distribution and storage. He said that the conference seeks to bring the best brains together to explore solutions towards developing and strengthening the national green hydrogen ecosystem.
"Technology Adoption is Crucial for Ramping up Electrolyzer Production Capacity"
The Secretary said that the conference is the first major event on green hydrogen. He said that the green hydrogen ecosystem is important in order to attain the basic production target of National Green Hydrogen Mission, of producing 5 MMT of green hydrogen per annum by the year 2030. "Electrolyzer production capacity in the world is very limited, this capacity has to come up in India. And for this, it is important that we learn and adopt the appropriate technology for electrolyzer manufacturing as well as for various individual components of the manufacturing process. Through this process, we are creating a platform where experts can talk about various steps of the value chain, so that we can learn from others; this would comprise not only production, but also marketing and collaborations. Our focus is on the entire value chain which is important for the success of the National Green Hydrogen Mission."
Responding to a media query, Shri Bhalla said that at last count, about 48 projects on green hydrogen / green ammonia have been publicly announced in India. "A lot of them are talking about green ammonia, which totals to production of around 3.5 million metric tonnes per annum of green hydrogen. There is a lot of traction from the industry, as far as green hydrogen opportunity is concerned."
The Conference will also guide us in determining the focus areas for R&D and on the standards and regulations needed, said the Secretary. Shri Bhalla said that a Working Group on Standards for Green Hydrogen Manufacturing has already submitted a report comprising around 100 recommendations, to Bureau of Indian Standards and other standards-related organizations.
"Government is working on Definition of Green Hydrogen, Global Standard Needed"
Shri Bhalla said that the government is working on a definition for green hydrogen and expressed the hope that the conference helps to also evolve some global standards for green hydrogen. He added that there is no standard definition for green hydrogen, with different countries and private organizations coming up with multiple definitions. "It is an evolving field, so every country is learning, so India is going to come up with a definition based on what we believe should be green hydrogen and eventually, we should be having a global standard on the definition of green hydrogen. This should have clear starting and ending points, so that we can effectively evaluate our energy transition and adoption of green hydrogen."
25 Sessions, 1,500 Plus International and Indian Delegates
The three-day international conference will no less than 25 deep-dive sessions aimed at establishing a green hydrogen ecosystem, with expected participation of more than 1,500 delegates from India and abroad. Delegates will also get to hear regional perspectives on green hydrogen, by the Americas, Australia, Africa, Europe and of course, India.
The conference will also have demos, prototypes by PSUs, private companies and startups, as well as B2B and B2G meetings.
The opening day of the conference will have sessions on Hydrogen Production-
Electrolysis and Bio-Pathways; Hydrogen Storage, Distribution and Refuelling; Hydrogen Energy Ecosystems & Assessment; Fuel Cells & Electrolyzers: Key materials& components; Hydrogen Production – Thermochemical Nuclear / Other; Hydrogen in Mobility; Integrated Hydrogen Systems; Hydrogen in Industries; and a panel Discussion on Disruptive Science and Technology.
Day 2, i.e., July 6, will have two plenary lectures, one presenting a Japanese and another an Australian perspective on the role of green hydrogen. The technical sessions for the day would be on Pipeline Infra, and Compatibility; Hydrogen Economy – Logistics and Infrastructure; Codes, Standards and Regulations; Hydrogen Valleys/ Hubs / Clusters; Start-ups in Hydrogen; Hydrogen Strategies and Polices; Green Financing; Strengthening R&D Ecosystem. The day will close with a Panel Discussion on Carbon Emissions associated with Green Hydrogen Production.
The third and final day of the international conference will feature a plenary lecture presenting a European perspective and a panel discussion among key industry stakeholders. The conference will conclude with the valedictory session.
Incentive Schemes for Electrolyzer Manufacturing and Green Hydrogen in the Works
Speaking on demand creation, the Secretary said that the government is working with respective Ministries to promote green hydrogen. "The Ministry is also working on provision of incentives for electrolyzer manufacturing and for production of green hydrogen. As regards production of green hydrogen, incentives will be awarded based on setting up of green hydrogen plants; in a second model, incentives will be provided for consumption, based on a Demand Aggregation Model."
The New & Renewable Energy Secretary said that the draft of the incentive scheme for electrolyzer manufacturing and part of the incentive scheme for production of green hydrogen have been finalized and will be rolled out soon. He said that the total incentives being offered under the Mission is more than Rs. 17,000 crores until the year 2030, which will be rolled out in tranches, so that the government will learn from the first tranche and evolve the second one.
On the question of funding for green hydrogen, the Secretary recalled that there is a need for Rs. 8 lakh crores of investment under National Green Hydrogen Mission and said that the government is talking with banking and financial system, private sector and other stakeholders for financing of green hydrogen. He said that the government would be handholding industry in order to attract funding for the sector.
Green Hydrogen Hubs on the Anvil
The Secretary said that the government is working with states on development of green hydrogen hubs. Explaining the concept, the Secretary said: "A Green Hydrogen Hub is an area where production and consumption occur in close proximity. If a particular green hydrogen production capacity is purely export-oriented, they would be largely near the ports and this is a call which the private sector is going to take. We are working with the Ministry of Shipping in order to explore setting up of green hydrogen hubs at major ports. Hubs will be selected for infrastructure support from the government based on parameters identified under the policy to be rolled out, but hubs in addition to what the government supports can also come up, based on initiatives by the industry."
National Green Hydrogen Mission
The National Green Hydrogen Mission was launched by the Government of India on 4th January 2023, as part of its decarbonization strategy. The Mission places significant emphasis on R&D in green hydrogen and aims to make India a global hub of Green Hydrogen production, utilization, and export. The Mission will kickstart major interventions in policies and technology to develop a robust Green Hydrogen ecosystem in the country. It seeks to do this by creating demand, strengthening the supply side, and focusing on policy and regulatory frameworks, innovation and affordability. The Mission will encourage private investment in the sector and enable rapid scale-up, technology development, establish standards & regulatory framework and enable rapid cost reduction. R&D in green hydrogen not only fosters sustainable energy solutions but also opens opportunities for job creation and economic growth in India's clean energy sector. By prioritizing R&D, India is poised to become a global leader in green hydrogen technology, paving the way for a cleaner and greener future.
(Source: PIB)