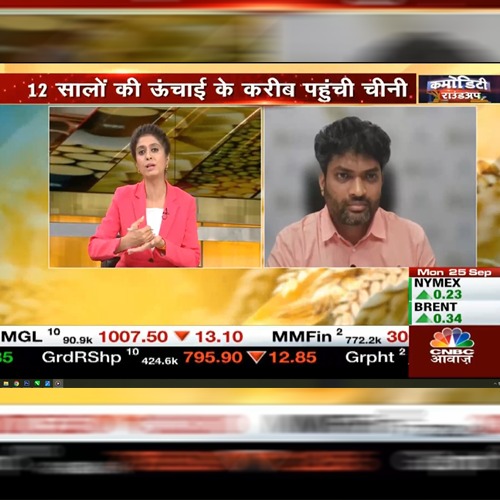 Global sugar prices are likely to remain high due to expectations of lower output in India and Thailand. In an exclusive interview with CNBC Aawaz, Hemant Shah, Co-Founder and Deputy CEO of Agrimandi.live, stated that due to an anticipated decrease in sugar production in India and Thailand, global sugar prices are expected to increase by 5-7 per cent.
The effect of El Niño is being observed on sugarcane production in India. While Uttar Pradesh may witness good sugarcane production, Maharashtra and Karnataka are experiencing deficient rainfall, which could directly impact sugar production in these states.
The government is actively monitoring sugar stocks available with mills, traders, and wholesalers. And also taking timely actions to ensure sugar prices are under control in India. Currently, S30 sugar prices in the Kolhapur market stand at ₹3,650 per quintal. Despite the upcoming festive season, the government's proactive measures have limited the possibility of a sugar price hike in country.
Hemant Shah emphasized that government is striving to maintain stable sugar prices in domestic markets while keeping the interests of consumers in mind. The government is keeping a close watch on sugar stocks with sugar mills, traders, and wholesalers.
Shah mentioned that the from last two months government is monitoring sugar stocks to ensure stability in sugar prices in the domestic market. In addition to this, for the very first time, the government has allocated the first tranche of 13 lakh tonnes of sugar quota for October 2023, taking into consideration the festive season, which would result in stable sugar prices in domestic markets.
"As festival season is around the corner, there would be festival demand, but government aims to ensure that supply should not be hindered. And due to government monitoring, sugar prices are not likely to increase," he further added.
Shah pointed out that the impact of El Niño could be seen on the country's sugar production, especially in the states of Maharashtra and Karnataka. The estimated sugar production for the upcoming season is expected to be 30.5 million tons (against 32.9 million tons in 2022-23 season), which is lower due to the decrease in sugarcane production in these two major states. However, considering the domestic demand of 28 million tons, there is likely to be sufficient sugar production in the country, making a price hike in domestic markets unlikely.
The International Sugar Organization (ISO) has released its projection for the upcoming 2023/24 sugar season, forecasting a decrease of -1.2% in global sugar production, resulting in a total of 174.83 million metric tons (MMT). The global sugar market is expected to experience a deficit of -2.118 MMT in the 2023/24 period, reversing the surplus of 0.49 MMT recorded in the 2022/23 season.
Sugar prices have increased continuously since mid-August and have remained at the highest price level in 12 years for the past 2 weeks.