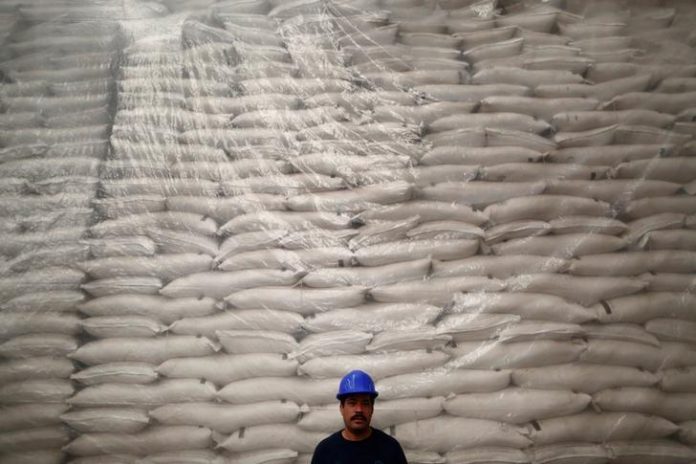 LONDON (Reuters) – The International Sugar Organization (ISO) on Tuesday forecast a global sugar surplus of 10.51 million tonnes in 2017/18, sharply above its previous projection of a 5.15 million tonne surplus.
"Since February, the statistical picture has become clearer and more alarming … the world sugar economy has managed to generate some late-season surprises, considerably worsening the fundamental picture," the ISO said in a quarterly report.

The inter-governmental body saw world production in 2017/18 (October/September) at 185.21 million tonnes, tel quel, up from a previous forecast of 178.70 million and 10.3 percent above the previous season's 167.85 million.
"The dramatic surge can be attributed to spectacular results at the final stage of the campaign in two Asian giants – India and Thailand," the ISO said.
The ISO raised its forecast for Indian production in 2017/18 to 31.4 million tonnes, up from the previous forecast of 26 million, while Thailand's output was seen at 14.35 million, up from the previous forecast of 12 million.
The revisions were partly offset by a downward adjustment to Brazil's production in 2017/18 to 34.5 million tonnes versus a previous forecast of 36 million.
"First tentative indications point toward a possible excess of global production over consumption for one more season albeit with a smaller global statistical surplus of about 6 million tonnes in 2018/19, but a possible end of the surplus phase in 2019/20," the ISO said.
The ISO, in its latest quarterly report, estimated there was a global deficit of 3.67 million tonnes in 2016/17, slightly wider than the previously seen 2.54 million.
(Reporting by Nigel Hunt; Editing by Mark Potter, David Goodman and Jane Merriman)