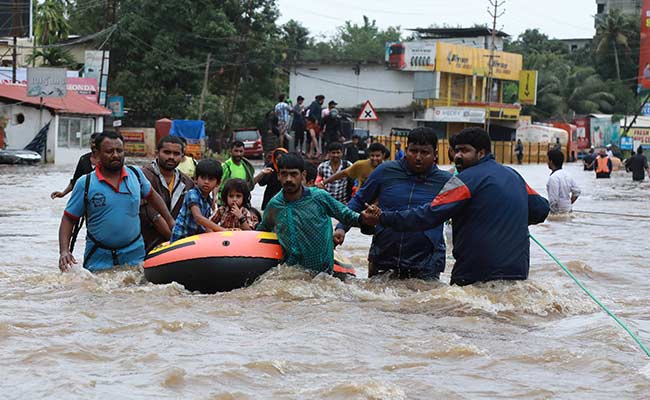 New Delhi, Aug 21 (PTI) Insurance companies expect claims in flood ravaged Kerala to cross Rs 1,000 crore as the government declares the deluge as 'calamity of severe nature'.
Assessment of claims will take place with situation moving to normal, a senior official of an insurance firm said, adding clear picture will emerge in the next 4-5 days when claims are received.
Given the magnitude, preliminary assessment points that claims for car, home and industry will be upwards Rs 1,000 crore, the official said.
Yesterday, the central government exempted customs duty and inter-state taxes on relief material for Kerala.
Oriental Insurance Company Chairman and Managing Director A V Girijakumar said it is too pre-mature to guess any number on the expected claims.
It will be clear in the next 4-5 days when the situation would improve, he added.
Public sector general insurance companies — National Insurance, New India Assurance, Oriental Insurance and United India Insurance — under the aegis of GIPSA has geared up to settle claims in flood-hit Kerala.
These companies have system in place and they will also make insurance claim form simple, Girijakumar said.
It was decided that on August 22, technical department heads and general managers will be meeting to align the existing guidelines and make suitable adjustments to fit into the requirements and context of Kerala floods, he added.
Monitoring will be done on continuous basis at the regional level, corporate office level, General Insurers Public Sector Association of India (GIPSA)  and Department of Financial Services.
LIC said it is working in coordination with the partner banks for the expeditious settlement of claims for the people covered under Pradhan Mantri Jeevan Jyoti Bima Yojana (PMJJBY).
"Instructions have been issued to set up Special Help Desk at Divisional and  Branch Offices to respond to policy enquiries and assist in expeditious settlement of claim. Special Task Force has been created to ensure that concessions and benefits are reaching the needy Policy Holders," LIC said in a statement.
According to IFFCO Tokio General Insurance Executive Director (Claims) R Kannan, the company has mobilised over 100 in-house and external surveyors for quick claim assessment and payments.
"We have taken steps to release on-account payments and will also explore the use of drones to survey the inaccessible areas. We will take all steps to ensure that our customers get back to their normal life as quickly as possible," Kannan said.
According to brokerage firm Emkay, the main impact could be in the form of accretion in fresh slippages and rise in credit costs especially for SME/MSME/retail along with weakening of credit growth.
Concern to be raised for Federal Bank, South Indian Bank, Muthoot Finance and Manappuram, it said.
When a calamity is declared to be of 'rare severity' / 'severe nature', support to the state government is provided at the national level. The Centre also considers additional assistance from the National Disaster Response Fund (NDRF).
A Calamity Relief Fund (CRF) has been set up, with the corpus shared 3:1 between the Centre and state. When resources in the CRF are inadequate, additional assistance is considered from the National Calamity Contingency Fund (NCCF), 100 per cent funded by the Centre. Relief in repayment of loans or for grant of fresh loans to the persons affected on concessional terms too are considered once a calamity is declared 'severe'.