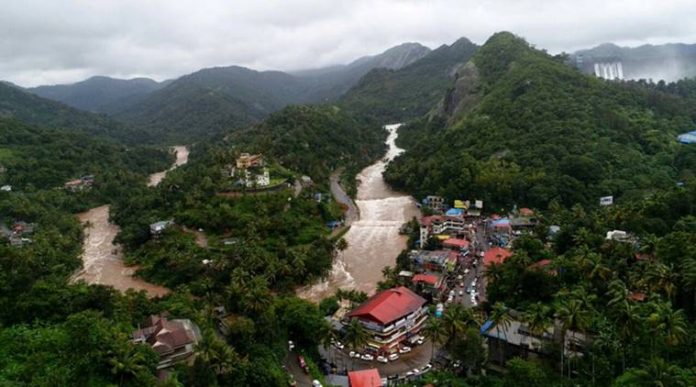 Union Home Minister Rajnath Singh on Sunday announced an immediate assistance of Rs 100 crore for rain-ravaged Kerala even as the state estimated its loss at Rs 8,316 crore. After conducting an aerial survey of rain-hit districts of Idukki and Ernakulam districts along with Chief Minister Pinarayi Vijayan and Union Minister of State K J Alphonse, Singh said, "I understand the sufferings of the people of Kerala from the present crisis. Since assessment of damage would take time, I am announcing an immediate relief of additional Rs 100 crore."
"The Centre is closely watching the flood situation and providing all possible assistance to Kerala state. We will leave no stone unturned to mitigate this unprecedented disaster. I have come to know that it was in 1924 that Kerala faced such a big calamity. I appeal to all political parties to join hands with the state government to mitigate the sufferings of the people," he said.
The minister said the immediate assistance of Rs 100 crore was apart from the aid of Rs 160.50 crore announced earlier.
In the memorandum submitted to Singh, Chief Minister Pinarayi Vijayan said preliminary assessment showed that the state had suffered a loss of Rs 8,316 crore. Kerala also sought a comprehensive package for rehabilitation of the affected people and reconstruction of the damaged infrastructure.
The Chief Minister said the Centre should immediately release Rs 1,220 crore from the National Disaster Response Fund. The assistance as per guidelines of the National Disaster Response Fund is meagre. Hence, a special package should be announced for the state, he said.
He said landslides and flood have caused huge damage to life and property. Between August 9 and August 12, as many as 37 people have been killed. This south-west monsoon season has already claimed 186 lives. As many as 211 incidents of landslides were reported during the period.
He said the state would have face the impact of the monsoon havoc for a long time as 10,000 km of road managed by the state public works department had been damaged.
According to the state disaster management cell, as many as 31,075 people were staying in 302 temporary relief camps. As water retreated from several low-laying areas, people have started to return home.
The Met Department has sounded alert in several districts, particularly Idukki, Kozhikode and Wayanad for the next three days. However, no fresh case related to monsoon was reported from anywhere in the state. The water level in Idukki dam, which shot up to 2,401 ft on Thursday, came down to 2,398.50 ft Sunday evening, mitigating the fear of flood in Ernakulam district. The dam, opened after a gap of 26 years, has been discharging water at the rate of 750 cubic meters per second since Friday.