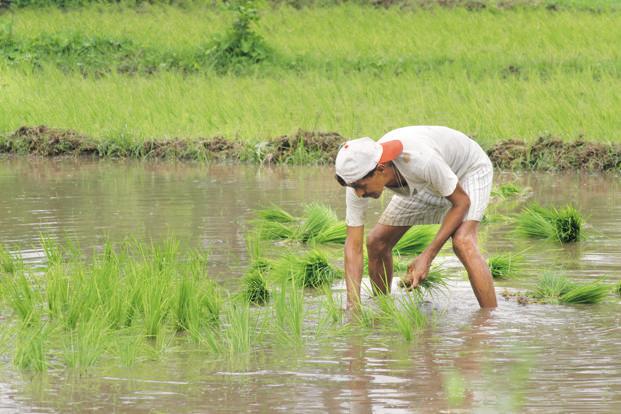 New Delhi: Rain-fed Kharif crops have been planted in 92.5 million hectares so far, 1.5% lower than a year ago, according to data released by the agriculture ministry on Friday. Area planted till date covers 87% of the seasonal area of 106 million hectares.
According to latest data, plantings are lower for crops such as rice, pulses, coarse grains and cotton, and higher for sugarcane and oilseeds, compared to the year-ago period. The uneven spread of the June to September south-west monsoon, which waters over half of the Kharif crop area, has led to lower plantings for some crops, including rice.
So far the monsoon has seen a deficit of 11% compared to the normal or 50-year average, with the highest deficiency in rice-growing states of Bihar, Jharkhand, West Bengal, Assam and Manipur. Rice, the main Kharif crop, has been planted in 30.8 million hectares so far, about 2.8% lower than the 31.7 million hectares last year.
Deficit rains in states such as Gujarat and Maharashtra is likely to impact productivity of cotton. So far, cotton has been planted in 11.2 million hectares, 3.8% lower than the 11.7 million hectares a year ago.
Among pulses, plantings are higher for moong and lower for long duration varieties such as urad and arhar. Overall, planting of different pulses are 2.9% lower year on year, while area under coarse grains is 3.3% less than last year.
Two major crops where plantings are significantly higher are soybean and sugarcane. Planting of soybean and sugarcane is 9% and 1.5% higher, respectively, than last year.
While uneven rains were unlikely to make any significant dents in aggregate foodgrain production, it could possibly spike farm distress in parts of Maharashtra, Jharkhand, Gujarat and Andhra Pradesh.