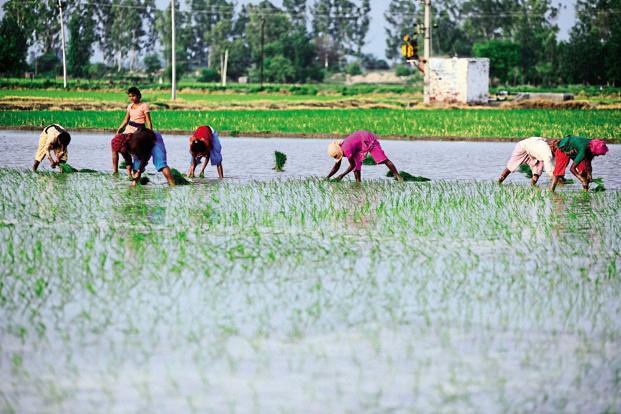 Image Credits: Livemint
The peak summer months are just round the corner. Reports suggest that more than 150 or about one in every four districts In India fall prey to the extreme dry conditions since January.
The south-west monsoon, which usually arrives in the Indian mainland by early June, is critical, not just because it will bring relief from sweltering heat conditions, but also because its impact runs through the broader economy.
What is monsoon?
It is essentially a shift in the prevailing wind patterns. Drafts of breeze from the south Pacific travel northwards, carrying moisture along the way. It traverses nearly 8,000 km before reaching the Asian land mass, resulting in rainfall and offering respite to a sweltering summer.
How does it distribute across India?
Kerala is the south-west monsoon's first port of landfall in mainland India. It arrives in Kerala in the first of week of June, after covering Andaman and Nicobar islands a week before. After hitting Kerala, it breaks out into two branches: one over the Bay of Bengal and the other over the Arabian Sea. In a normal year, it covers the entire country in a month. It hits Maharashtra around June 15 and Delhi around June 29 before travelling further in to the north-west.
Is monsoon essentially an Asian phenomenon?
No. Monsoons happen in the world's other regions too such as Europe, Chile, Africa and North America.
How is the monsoon's progress recorded?
Satellites images now allow weather scientists to monitor monsoon's course and quality fairly accurately. According to the Met's classification, the monsoon is considered normal rain are between 96-104 percent of the 50-year average rainfall of 89 cms. The monsoon is taken to be below normal if rains are between 90 – 96 percent. If less than 90, it is considered deficient
Why is the monsoon so important for India?
Despite big strides in industry and services, two-thirds of Indians depend on a farm-based income. Nearly 60 percent of the country's farms lack irrigation facilities, leaving millions of farmers dependent on the rains. The monsoon is critical to replenish 81 reservoirs necessary for power generation, irrigation and drinking. About half of India's farm output comes from summer sown kharif crops such as rice, sugar, cotton, coarse cereals.
How does monsoon hurt or boost the economy?
A good monsoon increases food output and improves farm income. Abundant rains can push up rural spending on several items such as televisions, cars and gold. The fast-moving-consumer goods (toothpastes, shampoos and instant noodles etc) and fertiliser sectors would benefit the most from normal monsoon. Likewise, about 40 percent of India's cement demand comes from rural housing. Adequate monsoon, therefore, is critical for steady growth of cement companies.
Below normal monsoon will also negatively impact agricultural and related sectors like fertilisers, agro products, farming equipment (tractors). Rural spending on consumer goods are also crucial for the broader economy. For instance, rural buyers account for close to 40% of India's total motorcycle sales.
What is El Nino?
El Nino – or "the boy child" in Spanish – is a weather phenomenon characterised by an abnormal warming of the eastern Pacific Ocean that triggers weaker rains and droughts in the Indian sub-continent. This year, the monsoon is critical because, apart from ending a drought in the southern states, a good farm output will help keep prices under check. Food price pressures could build anew if El Nino disrupts the south-west monsoon this year.
El Nino, an abnormal warming of surface ocean waters in the eastern tropical Pacific, is one part of what's called the Southern Oscillation. The Southern Oscillation is the see-saw pattern of reversing surface air pressure between the eastern and western tropical Pacific. South American fishermen have given this phenomenon the name El Nino because it comes about the time of the celebration of the birth of the Christ Child-Christmas.