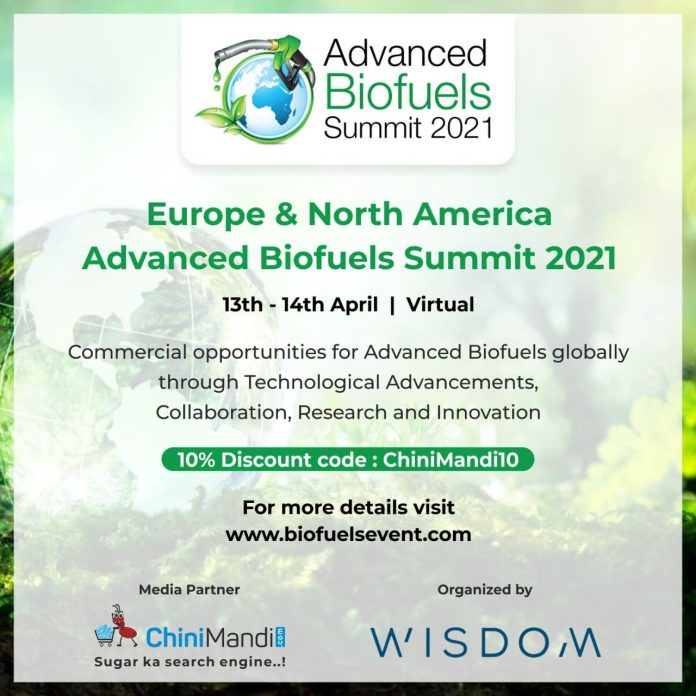 Advanced bioenergy has the potential towards stimulatisation of rural development and generation of wealth within the growing bioeconomy.
Ethanol and Biodiesel remain the most popular fuels, however increasingly advanced liquid biofuels produced from feedstock such as lignocellulosic, waste oil, fats, and municipal waste count as a viable option to decarbonize energy sectors in a cost-effective way in industries such as aviation, shipping, and freight. However, limited feedstock availability, keeping up with advancements in process technology, and growing regulatory pressures across Europe and North America shows that the advanced biofuels market in these regions still have some significant challenges ahead to overcome.
The European and North American Advanced Biofuels Summit on 13 and 14 April 2021 brings together key players, and senior representatives from biodiesel producers, downstream oil companies, clean fuel producers, alternative fuels industries, process technology providers, fuel traders, brokers, consultants, crop science and feedstock suppliers to discuss the latest market trends, the impact of Covid–19 on the advanced biofuels market, advancements in process technology, and review existing regulation impacting the markets in Europe and North America to ascertain where the most commercial developments & business opportunities lie in these rapidly growing markets.
Sharing views about the event Jaisimha Das, Wisdom Managing Director said, "We are excited to be hosting the first of our Advanced Biofuels Series focusing on the North American and European markets. We are proud to count among our speakers some of the most respected biofuel producers in the industry. These include; BP, ENI Versalis, Advanced Biofuels Canada, Good Fuels, Nordic Green, Sekab, Nordic Blue Crude, SBI Bioenergy, World Energy, CRIMSON Renewable Energy, OMV and ORLEN Lietuva. No matter your role in the sector, we look forward to having you on what is shaping up to be a very exciting event."
The Advanced Biofuels Summit 2021 will be delivered through an advanced networking tool.
To register for the event visit www.biofuelsevent.com
10% Discount for ChiniMandi Readers – Coupon Code Chinimandi10