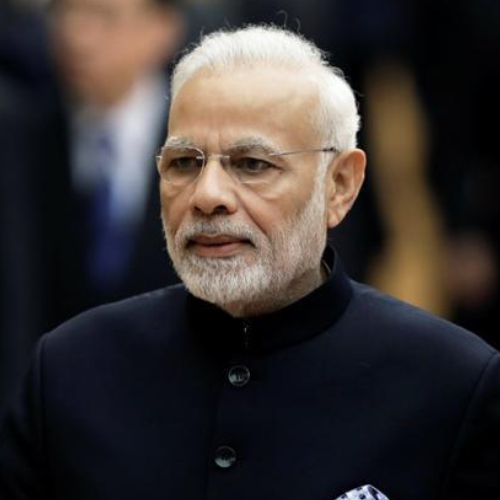 New Delhi, May 23 (UNI): In a landslide victory in elections to the 17th Lok Sabha, the ruling Bharatiya Janata Party (BJP) is all set begin its second five-year innings under the captaincy of Prime Minister Narendra Modi guiding the destiny of the nation.
As the counting of the votes began on Thursday after a grueling seven-phase polling that extended to 38 days and trends started pouring in, it became amply clear that the saffron party will win 300 Lok Sabha seats on its own, securing a bigger mandate than the 2014 elections.

Riding on the popularity, appeal and leadership of Prime Minister Modi, the BJP-led NDA was all set to romp home with a tally of 340 seats. The main challenge from the Congress-led opposition turned out to be a non-starter with the grand old party facing an existential crisis and leading on 56 seats and the UPA's tally likely to be around 100.
Leadership of Congress president Rahul Gandhi, charisma of her sister Priyanka Gandhi Vadra seemed to have failed to enthuse voters in the Hindi heartland as well as other parts of the country. Even the much-touted `Nyay'' scheme promising a payment of Rs. 72,000 every year to the most poor families failed to find favour with the targeted sections of the society. Issues like corruption, unemployment and farmers' distress, GST and demonetization which were raised by the Congress during a long drawn campaign failed to capture the imagination of the electors. Out of a total electorate of 91 crore, all the seven phases witnessed a poll percentage of 67.11 per cent.
The biggest gain for the Lotus Party came from Trinamool Congress-ruled West Bengal where it fought pitched battle with chief minister Mamata Banerjee and appears all set to win 19 seats out of 42 total seats with the Trinamool Congress leading on 22 seats.
Focussing on a mix of development, nationalism and national security coupled with a strong and decisive leadership, the BJP was able to drive home its message to the voters.
In Uttar Pradesh, the SP-BSP alliance was maintaining its lead on 22 seats while the BJP was ahead on 57 seats.
It will be a historic victory for Mr. Modi as he would become the first non-Congress Prime Minister to have secured a second consecutive five-year term to rule the country with clear majority of his party.
Prominent among those who were trailing as the trends came in this evening were Congress stalwarts like Digvijay Singh from Bhopal, Raj Babbar from Fatehpur Sikri, Jyotiraditya Scindia from Guna, Shatrughan Sinha from Patna Sahib and Rahul Gandhi from Amethi. Former Prime Minister H D Deve Gowda was trailing from Tumkur in Karnataka and former JNU student leader Kanhaiya Kumar of CPI was trailing from Begusarai in Bihar.
As it became clear that the decisive and massive mandate was heavily tilted in favour of the BJP, Prime Minister Modi dedicated his party's victory to a win for India and tweeted: "Together we grow. Together we prosper. Together we will build a strong and inclusive India. India wins yet again! #VijayiBharat.
While the Congress headquarter at Akbar Road wore a desolate look, it was celebration all the way at the BJP office at Deen Dayal Upadhyay Marg as workers thronged the party office and gave a rousing welcome to the party president Amit Shah.