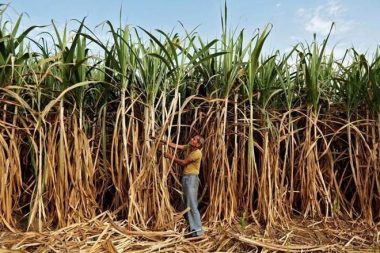 Maharashtra's sugar season for 2018-19 started with 30 cane crushing licences being issued. Factories in the drought-hit Marathwada region, however, are not among these. "The situation is pretty bad. Initially, a lot of water is required to start the the factories and there is no water in Marathwada due to drought. The factories are currently making water arrangement by deploying water tankers and full fledged operations are likely to commence after November 1," BB Thombre, president, Western India Sugar MIlls Association ( WISMA) said.
Marathwada region has some 76 factories and these were earlier affected due to dispute with transportation and harvesting workers who demanded higher wages. Thombre said that the matter has subsided since workers also want work. "The quality of the crop in the region has suffered due to low rains. The cane is drying and recovery could be affected. Initially we had estimated that about 10-15% of the crop would be affected but now the situation has worsen and nearly 35-40% of the crop could be hit," he said.

Maharashtra Sugar Commissioner Sambhaji Kadu Patil said around 194 factories had applied for crushing licenses. The licenses are expected to be issued in a phased manner after scrutiny. Nearly 26 sugar factories in the state are yet to clear Fair and Remunerative Price dues worth Rs 176 crore owed to cane farmers. Of the 194 factories to seek licenses, 100 are cooperative factories and 94 are private mills. Around 169 mills have fulfilled all the necessary criteria for getting the crushing licenses.
Maharashtra's cane arrears are less than 1% of its total dues to farmers. Of the 26 factories, 14 have paid up to 95% of their dues. Only seven factories have paid less than 90% of their dues. Although initially it was estimated that 1,049 lakh tonnes of cane will be crushed, the commissioner said he could not commit to any final crushing figures because of the attack of 'Humni' on cane in some parts of the state and the impact of the disease is yet to be ascertained.