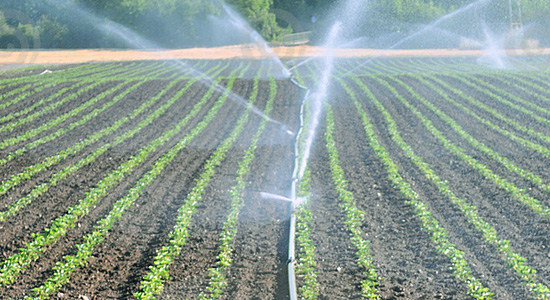 Image Credits: darknews.in
Maharashtra government is planning to pump more money into micro-irrigation projects to double agricultural income by 2022. The government's 'More Crop Per Drop' programme aims to increase efficiency of water use through various measures, like diversification of crops and a phased shift in agricultural practices. In 2018-19, the state plans to optimise water efficiency by 20 per cent. The National Bank of Agriculture and Rural Development (NABARD), in its annual report 2018-19, states, "Currently, gross area under mirco-irrigation is around one million hectares with average area expansed by about 100,000 hectares in five years."
While conceding the challenges ahead, the report adds, "Considering that Maharashtra's total area under agriculture is more than 20 million hectares and only 20 per cent of it is covered under the formal irrigation system, at present rate it would take decades before micro-irrigation systems can be installed in every farmer's field.The government needs to ramp up coverage of the micro-irrigation systems by channelising more investments to bridge the gap."
Chief Minister Devendra Fadnavis has directed the Ministry of Water Resources, Ministry of Agriculture and Ministry of Finance to revise the schemes to give more priority to micro-irrigation projects to achieve More Crop Per Drop. The state's budget for irrigation projects and water conservation schemes is Rs 12,000 crore. According to estimates, the state's overall expenditure after accounting for micro-irrigation will be Rs 15,000 crore to Rs 20,000 crore.
In the last three-and-a-half years, the state's priority was to make 25,000 villages drought-free. The state has made 11,247 villages drought-free (water neutral) and plans to make the rest drought-free by 2019 through "jalyukt shivar projects". Micro-irrigation is a step initiated to bridge the gap between irrigation potential created and utilised.
According to the Ministry of Water Resources, "The irrigation potential in Maharashtra is 49.4 lakh hectares, whereas irrigated area was 24.47 lakh hectares. The irrigation potential created by local sectors (minor projects) is 17.32 lakh hectares and utilisation was only 2.07 lakh hectares."
Among the two critical measures being undertaken to realise higher agriculture growth and income are increase in cropping intensity and diversification to higher value crops. A senior secretary in the water resources ministry said, "Micro-irrigation is our priority. But we have to gradually make inroads and provide greater incentives to farmers to adopt changes." Among the incentives is urging financial institutions to provide agriculture loan to eligible farmers for micro-irrigation projects. Public-private partnership in the agriculture sector and contract farming are also high on the government's agenda.
The state has also decided to bring all the land under sugar cultivation under drip irrigation. The kharif production for 2017 showed an increase in sugarcane crop from 6.33 lakh hectares in 2016 to 9.43 lakh hectares.