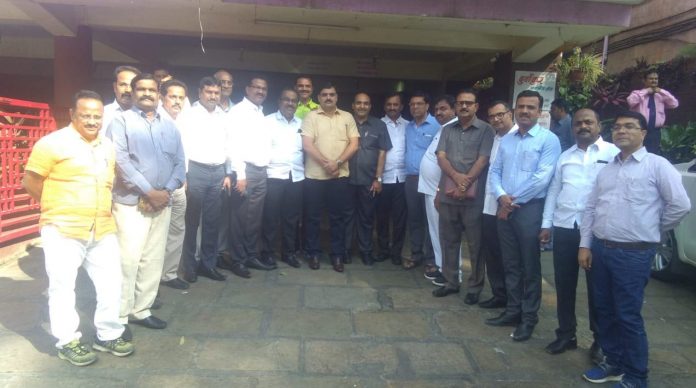 ChiniMandi, Pune: Maharashtra State Sugar Factories Managing Directors Association's meeting was conducted today at 'Sakhar Sankul', Pune. During the meeting, a new managing board was appointed. The meeting was chaired by former chairman Mr. Suresh Tawre.
The chairman of the association is the sugar commissioner of Maharashtra.
The newly appointed board is as follows:

President – Mr. R.S.Ranvare (Vitthalrao Shinde, Madha)
Vice President – Mr. Yashwant Kulkarni (Shree. Pandurang, Sripur)
Treasurer – Mr. Bhaskar Ghule (Agasti, Nagar)
Secretary – Mr. Sanjeev Desai (Ajinkyatara, Satara)
Executive Members, Co-operative Sugar Factories:
Kolhapur Sector
Mr. Ram Patil (Vishwas, Chikhali)
Mr. Jaydeep Patil (D. Y. Patil)
Sangli Sector
Mr. Chandrakant Gavhane (Kranti, Kundal)
Solapur Sector
Mr. Rajendra Chougule (Akaluj)
Mr. Samir Salgar (Saint. Damji)
Satara Sector
Mr. Suryakant Dalvi (Krishna)
Pune Sector
Mr. G.M. Anarase (Shree Chatrapati, Bhavaninagar)
Ahamadnagar Sector
Mr. Audumber Taabe (Pravara, Nagar)
Aurangabad Sector
Mr. S. R. Pisal (Siddheshwar, Sillod)
Jalana Sector
Mr. Dilip Patil (Samartha, Jalana)
Beed Sector
Mr. M. D. Ghorpade (Loknete, Majalgaon)
Executives for Private Sugar Mills
Mr. R.D. Patil (Sharayu Agro, Faltan)
Mr. Uttamrao Patil (Utopian Sugar, Mangalvedha)
Mr. Mahavir Ghodake (G.M. Sugars, Solapur)
A hearty congratulations to a new managing board.