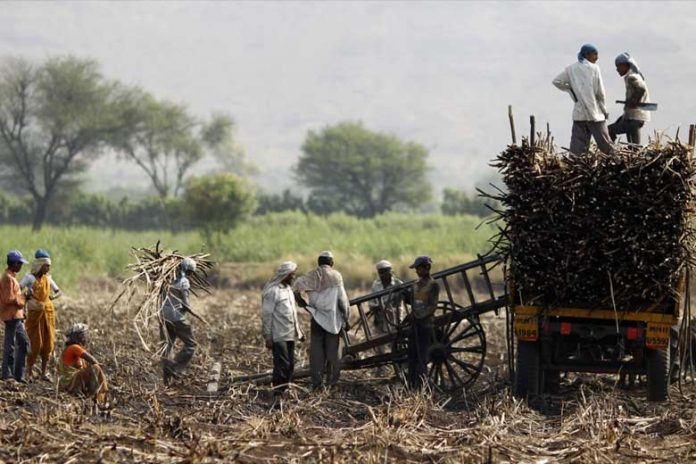 Image Credits: Financial Express
Following allegations made by a group of 20 farmers from Atpadi taluka in Sangli district that they have been "cheated" by Sadguru Sri Sri Sakhar Karkhana Limited in Rajewadi by borrowing loan after misusing documents of farmers, the sugar commissioner has assured that he will intervene in the case.
Sambhaji Kadu Patil,Sugar commissioner said that if farmers were threatened by the sugar factory that their cane will not be harvested for cane crushing, then they can directly approach him.He said,"As per rule, it is responsibility of sugar factory to harvest cane of their factory members.If factory will use this as a pressure technique, then we will take necessary steps to protect farmers.Farmers should register criminal case against the respective factory which will help them in court."
Social activist Bhaiya Pujari, who has been spearheading the agitation against the particular sugar mill, said that the sugar factory has been pressurising and threatening the farmers to not approach police with a complaint.A group of about 20 farmers from Atpadi taluka in Sangli district were surprised when they started receiving loan recovery notices from Canara Bank and ICICI Bank for loans, totally amounting to Rs 11 crore, that they had never availed. When asked, the sugar factory, according to farmers, had threatened them that their produce will not be taken and the bill will be delayed. .
Patil further said,"No sugar factory can delay farmers' cane bill.It should be delivered on time.It is mandatory for every sugar factory to allocate Rs.255 per quintal as per the fixed retail price for this year.These are the rules made for benefits of the farmers.If any sugar factory uses these guidelines as a pressure technique against farmers, then we will take strict action against the respective sugar factory."
Pujari said,"I had planted sugarcane on 2 acres of land,but as I started raising voice against the sugar factory fraud,Sadguru Sri Sri Sakhar Karkhana deliberately delayed my cane harvesting every time. I was left with no choice but to sent my cane produce to Green Agro sugar factory based in Khatav,80kms away from my village. Now that the sugar commissioner is assuring us help, we will approach him."