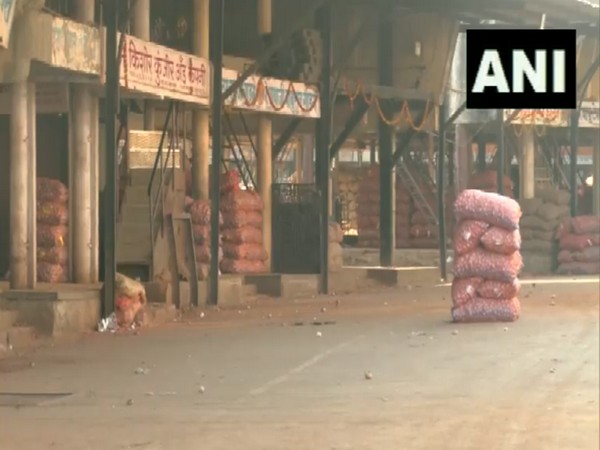 Pune (Maharashtra) [India], November 1 (ANI): The workers' union at Chhatrapati Shivaji Maharaj market yard in Pune has called for the shutdown of the market for one day to show support to Maratha reservation demand by Manoj Jarange Patil.
All businesses and trade under the Agricultural Produce Market Committee shut down on Wednesday to support the Maratha reservation demand by Manoj Jarange Patil.
Maharashtra Chief Minister Eknath Shinde convened an all-party meeting on Wednesday morning to discuss the situation in the state amid the intensified Maratha quota agitation.
Quota activist Manoj Jarange has been sitting on an indefinite fast for over a week. On Tuesday the Maratha reservation activist had decided to start drinking water after CM Eknath Shinde assured him of a solution.
Jarange-Patil however continues his agitation refusing to eat solid food. Patil says he will continue to drink water for two more days but would resume his complete hunger strike if the state government fails to place Marathas under the OBC category by giving them Kunbi caste certificates.
The activist also demanded that the government convene a special session to discuss the Maratha reservation demand.
Earlier on Tuesday, the state government accepted the first report presented by the Justice Shinde committee and issued a Government Resolution (GR), to decide the procedure for granting Kunbi caste certificates to the Maratha in the Marathwada region.
The process of issuance of Kunbi certificates has begun. The Kunbi community is eligible for reservation in the OBC category.
The GR (Government Resolution) noted "The available documents from Marathwada and other regions concerning the Maratha-Kunbi and Kunbi-Maratha caste certificates, the (retired) justice Sandeep Shinde Committee's first report has been approved by the State Cabinet chaired by Chief Minister Eknath Shinde today."
Chief Minister Eknath Shinde reiterated that the state government is committed to provide Maratha reservation which will pass legal scrutiny.
According to the Shinde Committee report, approximately till October 30, 1,74,45,432 records have been checked and from them, 13,498 records of Kunbi caste have been found as of now.
"Also, 460 evidence presented by the citizens in the review meeting in Marathwada were presented to the committee. During the investigation, most of the records in the old archives are in Modi script or Urdu language. The first report of Justice Sandeep Shinde (Retd) committee has been accepted. After this report the Kunbi caste certificate will be given to Marathas"," it added.
The Shinde committee reviewed the district-wise records in connection to the Maratha reservation. The committee directed the concerned 8 District Collectors to prepare a single sample for all the districts of Marathwada and inspect the records to submit a report to the government regarding the checked records. (ANI)