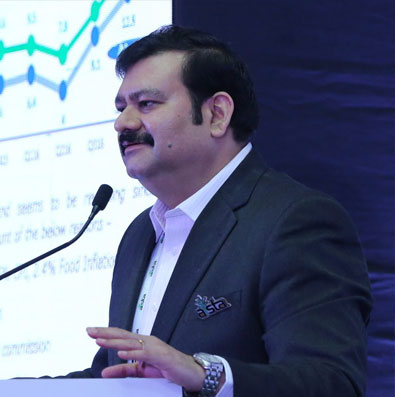 Where several months of lockdown due to the coronavirus pandemic has stolen the charm of markets, malls and supermarkets across the world, changing patterns of spending and consumption of various products has also been significantly witnessed in India. Every other commodity industry is at its best attempt to align with the demand supply dynamics of the new normal.
In a conversation with ChiniMandi News, Mr. Somnath Chatterjee – Head Procurement & Logistics, ITC Ltd : Food Division shared his views with special emphasis on sugar commodity. 
Speaking on the sugar consumption drop in India witnessed due to Covid-19 he shared, "Total sugar consumption during the current sugar year is expected to be around 24.5 MMT, which is less than expected pre-covid numbers of 26 MMT. However, India will regain its demand numbers back to 26 MMT during next sugar year. On the export front, India will continue filling in the World's sugar deficit with 5-5.5 MMT export numbers during 2020-21 sugar year if supported well by export subsidies by the Government of India. Coming sugar season starting from October 2020, will be a bumper production year with total production number touching 31 MMT. Monsoon is well on time, and has been bountiful so far and this is expected to be a normal monsoon year, which will definitely support total production numbers. Locust attacks in major sugarcane belts is an area of concern and to be looked after very carefully and must be controlled well on time."
Commenting on the various extra measures taken while procurement of sugar, Chatterjee said "With the sudden strike of nation-wide 21-Day lockdown, things on the field turned upside down overnight. Demand suddenly surging to about as high as 150% in these times of complete lockdown, we had to go out of the normal way and do that extra bit to tide through the testing times. This is a massive exercise involving 400-500 labour and hundreds of trucks. Maintaining compliance to all the norms with utmost importance to the safety and basic hygiene (Hand washing at regular time intervals with an alcohol based sanitizer, using a 3 – Ply Mask, etc.) of all resources involved, and ensuring 'Social Distancing' throughout the operations by deploying surveyors, we could win the confidence from the local government authorities and worker groups involved to deliver this humongous task.
Social distancing will definitely be a norm for the next 12 months at least. Once business continuity plans are settled and operating, once immediate tasks are complete, organisations including sugar mills need to focus on how to work toward a 'new normal'. For every business there will be a different context, but procurement and supply chain functions will be critical to identifying opportunities and needs for change, and facilitating these adjustments through suppliers and partners in the chain."
Speaking on how much stocking of sugar that may have been done or will be done by bulk consumers owing to the strong rumors on the hike of Minimum Selling Price of Sugar, he said, "I have heard that the Government is considering a proposal to increase the minimum selling price (MSP) of sugar from Rs 31 per kg in order to help millers clear cane dues of about Rs 22,000 crore to farmers. Promulgation of Minimum Selling Price was a unique mechanism introduced by the regulator to ensure floor price. By and large industry has followed MSP. Sugar mills will definitely benefit from this and consumers have to live with it."
"To the best of our estimates, bulk buyers may not have done any stocking more than what they normally do as per their internal policies because everyone is conserving cash due to the current pandemic situation." He added.
Being asked on how he has been seeing the demand taking shape after the ease of lockdown and how he sees the demand rolling ahead with major Hindu festivals coming ahead, Mr. Chatterjee answered, "With the beginning of "unlock", demand from most of the categories including Biscuits and Confectionery has gone up significantly. There has been a clear shift in people's preferences for eating habits towards packaged food items. Whatever is packaged or processed ends up having some sugar content, these include ketchup, beverages, ready to eat items, snacks etc. So this indirect consumption of sugar will give a boost to the overall sugar consumption in India. Festivals are just round the corner with Ganesh Chaturthi, Onam, Dussehra and Diwali etc. lined up during August to November months. Auspicious muhurat for marriages will also be there post September, however with limited gatherings and celebrations happening within safety norms will be a challenge. Overall we see demand to grow up in the coming months with further ease on restrictions."
Of late, there have been many campaigns on sugar being unhealthy, sharing his view on this debatable subject and how ITC is coping with it and diversifying its products he said, "We believe that the enemy is not sugar but it is overindulgence and lack of knowledge. Food companies have a vital role to play in helping enable healthier lives. The companies are committed to continuous product improvement and innovation, with the goal of making available food choices that help people eat a healthy, balanced diet.
As part of our endeavour to ensure and provide safe and nutritious food to the consumer to balance their diets, we pledge to continuously work towards evaluating and improving the nutrient profile of our product portfolio. It is our shared responsibility to help consumers make an informed dietary choice. Towards this, we reiterate our commitment to collaborate and continue work with the Food Safety and Standards Authority of India (FSSAI) and part of The Eat Right Movement (TERM), and support consumer awareness initiatives helping consumers care for themselves and their families."
"ITC Ltd is committed to provide safe, nutritious and sensorially superior food products to consumers. Being a responsible company, we have launched a number of food products with positive nutritional benefits like under the Aashirvaad Atta Range we have fortified Atta, Sugar Release Control Atta (Low GI Atta), Multigrain Atta ; under Sunfeast Biscuits we have the Farmlite Digestive made from 100% Atta, High protein Biscuits (Sattu Biscuit) ; under B Natural juices and beverages we have moved the entire range completely to being 100t% Fruit pulp/ puree based (Not From Concentrate). We will continue to develop many such products which will benefit livelihoods of food producers as well as improve the health and well-being of consumers.
To support The Eat Right Movement (TERM) we hereby confirm that we have made initiatives to reformulate our products by reducing salt/sodium, added sugar and fat in our food categories as per following targets :
Salt: by 2020 we will reduce by 5% from the current levels in three-fourth of our snacks & instant noodles portfolio. By 2023 we will have a further 5% reduction in three-fourth of our current snacks & noodles portfolio, targeting a total reduction of 10%
Sugar: by 2020 we will reduce added sugar by 5% from current levels in three fourth of our current biscuits & beverages portfolio. By 2023, three-fourth of beverages portfolio will have a further 5% reduction of added sugar
Fat: All our food products where trans-fat is originating from hydrogenated vegetable oil are "trans-fat-free" on a per serving basis in accordance with national regulation" He added.
To Listen to this News click on the play button.