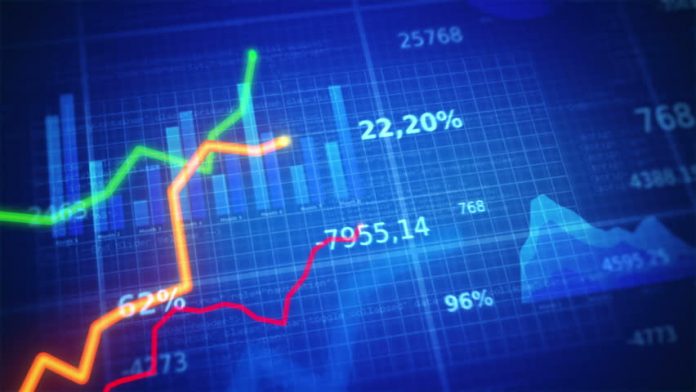 The BSE Sensex retreated from record high to end flat at 36,541.63 today as investors booked profits in recent gainers despite firm global cues.
Besides, disappointing macroeconomic data and unabated capital outflows by foreign funds too added to the weak trend.
The BSE Sensex, after opening at at 36,635.14, advanced to hit a life-time high of 36,740.07 amid positive cues from other Asian bourses.
However, emergence of selling at every rise wiped off initial gains completely and the index finally settled 6.78 points, or 0.02 per cent lower at 36,541.63.
"It was a volatile day on the bourses as stocks oscillated between the positive and negative zones through the day, reacting to conflicting cues in terms of positive global stocks and lacklustre macro-economic data. After an indecisive day, benchmark indices finally closed the day near the flat line," Abhijeet Dey, Senior Fund Manager-Equities, BNP Paribas Mutual Fund said.
The BSE benchmark had gained 282.48 points yesterday and closed at a record high of 36,283.25 after crude oil prices posted their biggest one-day drop in two years and robust start of the earnings season.
The broader NSE Nifty moved between 11,071.35 and 10,999.75 before ending 4.30 points, or 0.04 per cent down at 11,018.90.
Caution crept as profit-booking was witnessed in most sectors as investors reacted to key macro data release, which came post market hours yesterday.
"Despite positive global market and rise in rupee, the domestic market traded in a tight range as investors reacted to spike in CPI inflation and fall in IIP.
"Moderating trend in oil price and yield is providing signs of stability in the market momentum. However, the sentiment is not broad based as mid & small cap didn't participate in the rally. The concern on premium valuation is influencing investors to stay away from mid-caps," Vinod Nair, Head of Research, Geojit Financial Services said.
The Consumer Price Index (CPI) inflation rose to a five-month high of five per cent in June, while the Index of Industrial Production (IIP) slowed to a seven-month low of 3.2 per cent in May.
Infrastructure, realty, PSU, FMCG, Power, Capital Goods, Healthcare, Banks, Metal, Auto and Oil & Gas witnessed profit-booking.
Notable losers were ONGC, Axis Bank, ITC, SBI, ICICI Bank, NTPC, Hero Motocorp, Sun Pharma and Bharti Airtel ended the negative zone, falling up to 2.80 per cent.
However, Reliance Industries remained in limelight ended higher 1.34 per cent after company today surged past Rs 7 lakh crore mark, making it the second company after TCS to achieve this milestone.
RIL's market capitalisation (m-cap) rose to Rs 7,01,404 crore (over USD 102 billion).
It was the second week of gains in a row for the markets. The Sensex recorded a significant rise of 883.77 points, or 2.48 per cent, while the Nifty gained 246.25 points, or 2.29 per cent, in the week.
Meanwhile, the country's second-largest software services major Infosys today reported 3.7 per cent growth in consolidated net profit at Rs 3,612 crore for the quarter ended on June 30, 2018, compared to a net profit of Rs 3,483 crore in the year-ago period.
Shares of Infosys ended 1.12 per cent higher at Rs 1309.10.
Revenues from operations of the Bengaluru-based firm grew 12 per cent to Rs 19,128 crore in the April-June quarter compared to Rs 17,078 crore in the year-ago period, Infosys said in a BSE filing.
Oil prices edged lower and were set for a second weekly fall, as the market shrugged off a warning that spare capacity may be stretched as OPEC and Russia increase production.
Brent crude eased 69 cents, or 0.93 per cent, to USD 73.76 a barrel and WTI dipped 19 cents, or 0.27 per cent, to USD 70.14.
In the Sensex kitty, major laggards included ONGC 2.80 per cent, Axis Bank 2.46 per cent, ITC 2.29 per cent, SBI 1.96 per cent, ICICI Bank 1.60 per cent, Hero Motocorp 1.07 per cent, Bharti Airtel 1.04 per cent, M&M 1 per cent, Tata Motors 0.88 per cent and Sun Pharma 0.81 per cent.
However, RIL rose 1.34 per cent, Infosys 1.12 per cent, Bajaj Auto 1.02 per cent, Asian Paints 0.98 per cent, Coal India 0.96 per cent, HDFC Ltd 0.88 per cent, Kotak Bank 0.81 per cent, Maruti Suzuki 0.72 per cent, HDFC Bank 0.72 per cent, TCS 0.52 per cent, Yes Bank 0.43 per cent, Wipro 0.43 per cent, Tata Steel 0.33 per cent, HUL 0.28 per cent and Adani Ports 0.20 per cent.
Sector wise, the BSE telecom index lost the most by falling 1.98 per cent, followed by infrastructure 1.78 per cent, realty 1.36 per cent, PSU 1.02 per cent, FMCG 0.88 per cent, capital goods 0.88 per cent, power 0.81 per cent, healthcare 0.71 per cent, bankex 0.57 per cent, auto 0.33 per cent, metal 0.33 per cent and teck 0.21 per cent.
While consumer durables, energy and IT, managed to close in the green, rising up to 0.91 per cent.
Banking stocks took a beating after weak Index of Industrial Production (IIP) and inflation data.
Most Asian and European markets rose as China refrained from detailing retaliation plans against threatened US tariff increases.
Overseas, Asian markets ended higher, with Japan's Nikkei rising 1.85 per cent, Hong Kong's Hang Seng moved up 0.16 per cent, Singapore rose 0.23 per cent, while China's Shanghai Composite Index lost 0.23 per cent.
In the Eurozone, Frankfurt's DAX rose 0.30 per cent and Paris CAC gained 0.78 per cent in their late morning deals. London's FTSE too gained 0.49 per cent.