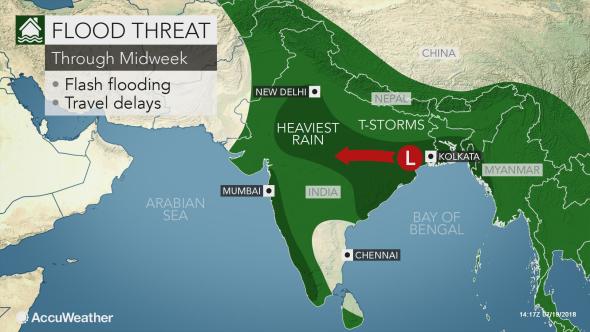 An uptick in monsoon rainfall is expected to heighten the flood threat across eastern and northern India this weekend and early next week.A monsoon low moving into Bangladesh and eastern India this weekend will promote widespread, heavy rainfall throughout the area, greatly increasing the risk of flooding in places where it has already had devastating effects.
Typical summer thunderstorms are still expected to impact western India and portions of southern India and Sri Lanka. While they will be spotty, any storm could produce flash flooding, dangerous lightning conditions and strong winds.
These storms will provide only brief relief from any poor air quality conditions since they are relatively short-lived. s the monsoon low inches westward early next week, heavier downpours will become more widespread over central portions of the country.
These periods of heavier rain will provide more long-term relief from poor air quality.
Rounds of heavy rain will also significantly increase the chance of flash flooding, threatening travel delays and property damage across West Bengal, Jharkhand, Odisha, Chhatisgarh, Bihar, Uttar Pradesh and portions of Madhya Pradesh. The National Capital Region (NCR) can also face travel delays due to flooding and limited visibility in heavy downpours.
"No break in the frequent monsoon downpours will come to India's western coast from Mumbai to Mangaluru," said AccuWeather Senior Meteorologist Eric Leister.
Widespread rainfall of 100-200 mm (4-8 inches) is expected with local amounts over 300 mm (12 inches) through the first half of next week.
"Residents should prepare for more evacuations and a risk of localized landslides in the higher terrain," Leister said.
As of July 17, about 55,000 homes in India have been damaged due to flooding and 511 people have been killed. About a dozen of those have occurred this past week alone.
Over 130,000 animals and 80,000 hectares of farmed land have been damaged by floodwaters as well, proving that monsoon rainfall has a large impact on every aspect of life in the hardest-hit areas.
"Combined sloped terrain, raging waters from the river and torrential rain can easily run-off and cause flash floods," Sonam Lotus, director of the meteorological department in Jammu and Kashmir, told Mongabay-India.
Motorists and pedestrians should take care not to traverse flooded roadways and to avoid flooded areas all together, since it is impossible to tell the depth of the water and the ground underneath may be compromised.