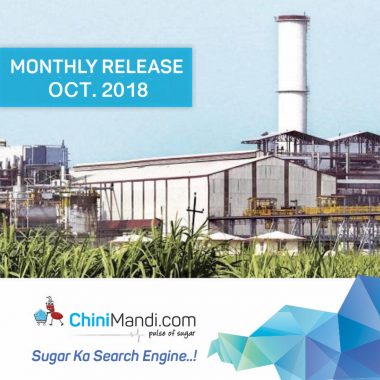 ChiniMandi: New Delhi – Sugar mills can sell 22 lakh metric tonnes of the sweetener in the domestic open market in October 2018, the Government said.
In a notification issued on 28th day of September 2018, the food ministry has allocated sugar quota for sale to each of 504 mills in the country.
The Govt. has also announced that the producers of sugar shall file statutory monthly P-II return by the 10th day of the following month incorporating required information including sale and dispatch of white/refined sugar made and end stock held in the relevant month.
Besides, during the month of October, 2018, sugar mills having distilleries with ethanol production capacity which divert B-heavy molasses to produce ethanol and thereby sacrifice sugar, shall be eligible to sell additional quantity of sugar in addition to the quantity of white/refined sugar prescribed for domestic sale/dispatch as indicated in column 4 in the table of the notification.

The additional quantity of sugar in lieu of production of ethanol from B-Heavy molasses produced during the month of October, 2018 shall be calculated as per the provisions contained in this regard in the Sugarcane (Control) Order, 1966. The quantity of such diversion of sugar should be indicated in the P-II return for the month of October 2018.
In the previous month the Govt. allocated quota to 524 mills in the country to sell 20 lakh MT plus approximately 2 lakh MT additional export benefits of the sweetener. Recently the Govt. announced a package of ₹5500 crore in order to enhance stability in the industry and boost exports thereby improving liquidity of mills enabling them to clear cane arrears and also facilitate exports along with Ethanol production.
October month's quota is likely to supplement more sweetness in the market after the ₹5500 crore package as it is the month when the festive demand will start scaling rocket high!