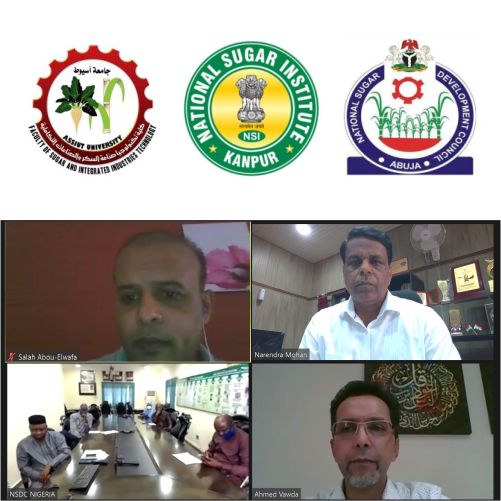 Kanpur: An international webinar was organized today on the topic "Sugar & Sweeteners-Quality and Consumption Patterns" jointly by National Sugar Institute, Kanpur, National Sugar Development Council, Nigeria and Assiut University, Egypt, wherein more than 600 delegates from India, Sudan, Egypt, Nigeria, Sri Lanka, Saudi Arabia, Kenya and Nepal participated. In his opening remarks, Prof. Narendra Mohan, Director, National Sugar Institute called upon the sugar industry personnel to look for production of sugar in factories keeping in view its end uses. Thus, production of pharmaceutical sugar, liquid sugar, brown sugar and other specialty sugars to be taken up for which market is fast growing up. He stress upon production of "Natural, Organic and Nutritive (NON)" sugars and their hygienic packing for value addition as well as for providing nutritive sweeteners to consumers in the Covid scenario.
In his presentation, Mr. Hezekiah Kolawole, Director, National Sugar Development Council, Nigeria while making presentation about sugar scenario in Nigeria informed it to be a sugar deficient country meeting its requirement to the extent of 97% through imports. Out of the total industrial consumption, 50% is by the soft drinks units but the per capita sugar consumption is 9 kg/annum which may grow to 15 kg in future, he added. As per the Nigeria Sugar Master Plan with looks for self-reliance in sugar, creation of over one lakh jobs and export of over400 MW power, lot of business opportunities are available and many Indian companies are supply plant and machinery to up-coming sugar units.

Mr. Ahmed Vawda, Plant Executive Director, United Sugar Co., Saudi Arabia spoke about different type of sweeteners including sugar alcohols, natural zero calorie sweeteners and artificial sweeteners. It is not only the low or no calorie content which is making these sweeteners popular but the cost also which is even less than 10% of the cost of sugar. He discussed in detail about such sweeteners including natural caloric sweeteners viz. maple syrup, sweet sorghum syrup and honey. Mr. Vawda described the growing use of aspartame and sucralose which have zero glycemic index and harmless to teeth as well. However, detailed studies are to be conducted on any other side effects upon consumption of such sweeteners.
Shri Ashok Garg, Asstt. Professor Sugar Technology, National Sugar Institute presented the details of market survey on consumption patterns of sugar in India. Looking to the health advisories being issued by various organizations on sugar consumption, sugar industry across the world should focus on developing processes wherein sugar with its vital natural ingredients like vitamins, minerals and glucose etc. could be produced with lesser requirement of chemicals. He described such processes developed by the institute for producing desired quality of sugar. We may look forward producing sugar fortified with vitamins and other minerals keeping in view the deficiency of them in masses.
Dr. Salah F Abou Elwafa, Vice Dean, Faculty of Sugar & Integrated Industries Technology, gave an overview of sugar production and requirement in Egypt. Although we produce sugar both from sugar beet and sugarcane, yet about 1/3 requirement is met by imports. He presented a comparative study of sugarcane and sugar production in various countries and called upon developing innovative techniques to enhance productivity from farm to factory. More interactive programmes like this on should be conducted for propagating the latest developments in the area of processing, he added.
To Listen to this News click on the play button.