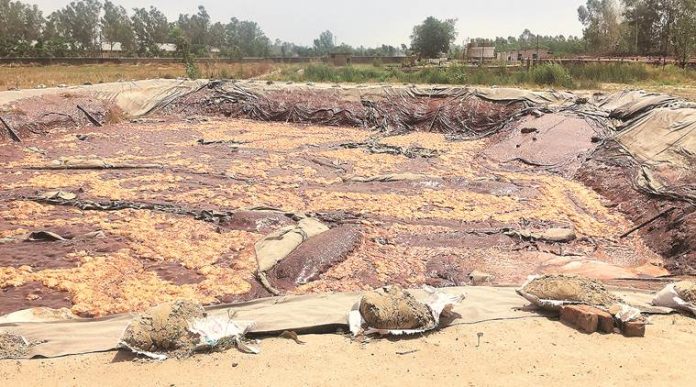 On the morning of May 17, Harvinder Singh of Chitta Sher village in Beas, the town named after the river in Amritsar district, went to check his fields near the river. What he saw in the water scared him.
"For the first time, I saw the water had turned dark. I saw dead fish floating. My first thought was something really bad had happened to the river," he says.
Harvinder was right. In the early hours of May 16, a security guard at the Chadha Sugar Mill in Kiri Afghana village in Gurdaspur, barely a kilometre from Beas, called up a manager to inform that the molasses stored in a tank at the mill was boiling over. The mill is located on a sand rise, and due to the gradient, it was flowing into a drain that connected with the Beas.
The management of the sugar mill, owned by the wife of the late liquor baron Ponty Chadha, battled to control the spill over the next day and a half. By 2 pm on May 17, nearly 10,000 kilolitres had flowed into the drain, and from there into Punjab's most important river, affecting the network of canals that feed off the Beas and Satluj in Punjab and Rajasthan. The Harike wetland ecosystem at the confluence of the Beas and Satluj was also affected.
Dead fish floated downstream and into the canals for three days after the spill. Over 3,000 cusecs of fresh water had to be released into the Beas to flush the molasses.
The Punjab Pollution Control Board (PPCB) has fined the mill Rs 5 crore, and ordered criminal prosecution of the management. As per the PPCB report, the sugar mill was storing molasses in two bricklined 20-ft deep tanks, neither of which was meant for the purpose.
While the PPCB rejected the management's excuse that it had processed sugarcane more than its capacity during this season, this is a story being repeated across sugarcane-producing areas in Punjab and other states.
For every quintal (100 kg) of cane crushed, mills produce around 10.7 kg of sugar and 4.6 kg of molasses, which is sold mainly to distilleries for manufacture of alcohol. With mills in India expected to crush over 300 million tonnes (mt) of cane in the current 2017-18 season, it translates into a record 32.2 mt production of sugar as well as 13.9 mt of molasses. This is against the 20.26 mt sugar and 9 mt molasses in 2016-17.