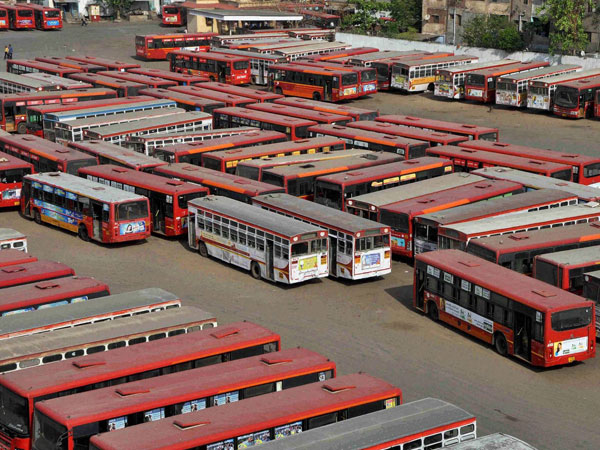 New Delhi: Public transportation across India is likely to be affected on Tuesday following a one day nation-wide strike against the Centre's Motor Vehicle Amendment Bill. The Bill has been approved by the Lok Sabha in 2017 and is waiting for approval in the Rajya Sabha.
The Motor Vehicle Amendment Bill (MV Bill) has provisions which opens up the public transport sector for the private players and also control and regulate permits and taxation. It also aims to create National Transportation Policy within the ambit of a national Act giving power to the Centre.

Public Transportation System at present is a state subject and is operated by State Transport Undertakings (STUs) under the direct control of the State Government. These State Transport Undertakings offer travelling facilities at low rates as compared to private buses. The transport sector workers fear if the private sector is allowed to interfere in this sector, it will create more difficulty to the public and will be a threat to the job security of the employees working under STUs
The strike call is given by All India Coordination Committee of Road Transport Workers' Organisations comprising various public transport workers federations and unions along with Centre of Indian Trade Unions (CITU). They have been consistently opposing MV Act in its present form terming it to be detriment to the public interests.
Tapan Sen, general secretary of CITU, says the proposed Bill, if enacted will pave the way for destruction of state-owned public transport corporations, wherever it is there. It will expedite the process of complete privatization of public transport system and take-over of them by big private corporates leading to monopolization and enhancement of the public transport fares to the detriment interest of the common working people. The Bill will also lead to mass-scale victimization of the road transport workers engaged in both public transport and goods transport including the small transport operators.
Sen added that the frequent rise in diesel and petrol prices making the public transport costlier for the people at large is also one of the reasons for the protest.
The Bill was last deliberated upon in Rajya Sabha in the current Monsoon Session which ends on August 10 witnessed opposition of the Bill from many political parties of the opposition and the Bill is yet to be passed by Parliament.
The ministry of road transport and highways has proposed various reforms in the transportation sector through the MV Amendment Bill to improve road safety and reduce congestion. The Bill Proposes introduction of section 66A for creation of a National Transportation Policy in consultation with the states for which a consultative mechanism would be put in place. Chapter VI (Section 97 to Section 108) of the Motor Vehicles Act, 1988, deals with the special provisions relating to the State Road Transportation Undertakings. No amendment has been proposed in this part.