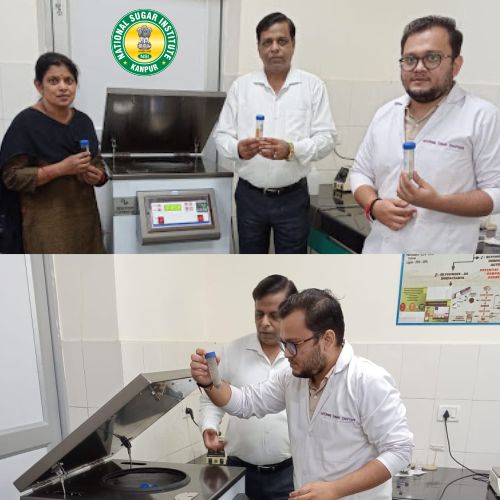 National Sugar Institute, Kanpur got yet another success in deriving a value added product from bagasse which is a fibrous material obtained as a result of sugarcane crushing. Every year, Indian Sugar Industry, every year produces about 80-90 million metric tonnes of bagasse which is used mostly as fuel in boilers. For making sugar industry economically sustainable, there is greater need for reducing dependency on income from sugar and to increase income from other sources through innovations, said Prof. Narendra Mohan, Director. We were working on the project from last two years and we have achieved success in producing a value added product: a derivative of Levulinic acid-"Methyl Levulinate" directly from bagasse which has diverse application in transport sector, medical, agriculture and food industry. While having anti-freezing properties, at high altitude or very cold climatic conditions it is used as fuel additive in bio-diesel, it is also used
as food flavouring agent in food industry, insecticide, herbicide, plant growth regulator in agriculture, localizing agent & photodynamic therapy in cancer and as plasticizing agent in many other applications, he added.
t present Methyl Levulinate is produced from Levulinic Acid and since the market price of Levulinic Acid is much higher, being about Rs. 500-800/- per kg, the cost of production of Methyl Levulinate is also very high. We were trying to explore possibilities of developing a techno-economic process using abundantly available cheap raw material and thus we explored the possibilities of using bagasse as raw material which is sold @ Rs. 2-3 per kg only, said Dr. Vishnu Prabhakar Srivastava, Asstt. Professor of Organic Chemistry and Project Supervisor. Bagasse is composed of Cellulose, Hemi-cellulose and lignin and we have utilized only cellulosic part and thus remaining fractions may be used for other purposes. We adopted selective alcoholysis of bagasse derived cellulose using acid catalyst under autoclave conditions, said Mr. Tushar Mishra, Research Scholar and Dr Chitra Yadav, Research Assistant. Product characterization has been carried out through Mass spectroscopy, NMR spectroscopy, Gas chromatography, FT-IR spectroscopy and Thin layer chromatography and the same has been found to be comparable with commercially available Methyl Levulinate produced from other raw material.
Considering the growing market, availability of cheap raw material and yield of Methyl Levulinate being about 5% of the raw material i.e. bagasse, we expect that it would be possible to reduce the cost of production significantly so that the desired utilization may be made by different sectors, said enthusiastic Prof. Narendra Mohan. We will scale up the experiments to get better idea about the yields and cost of production. A patent shall also be filed shortly by the institute, he said.
To Listen to this News click on the play button.