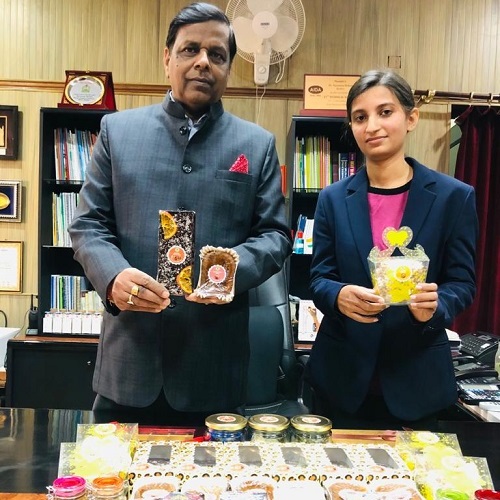 National Sugar Institute, Kanpur has come out with various bakery & confectionary products using liquid or powdered jaggery (Gur). Jaggery or Gur is traditional sweeter in our country which has got the medicinal value too and thus is preferred over white sugar in many applications. Thus, in its effort to provide healthier and nutritive products from sugar industry, National Sugar Institute, Kanpur has successfully developed many varieties of such products, chocolates, brownie, cakes, jaggery popcorns and spreads. The Sugar Technology division was working on it from the last two years and the process has now been standardized.
It was being considered as a challenge to produce such products maintaining quality, shelf life and taste but the efforts made by the institute in developing superior quality liquid and powdered jaggery (Gur) paved way for production of such OTC (over the counter) products, said Prof. Narendra Mohan, Director, National Sugar Institute. We are looking for a more vibrant sugar industry integrating with food processing industry and producing many such products, he added.
Looking to the demand of such products and investment profiles, institute is looking forward to work with Ministry of Rural Development and Ministry of Micro, Small and Medium Enterprises for setting up units around sugar factories and areas having sugarcane availability. MSME Sector has expressed its inclination to take such technology forward for setting up micro and small units and regional centres from Uttar Pradesh, Jharkhand, Himanchal Pradesh and Odisha have already approached the institute for working out process for taking technologies developed by the institute forward. In this regard, a meeting was held today also when a four member team from MSME, Agra led by Mr. Dhinakaran S, Assistant Director visited the institute.
We are planning for a wide spread publicity and adoption of many such technologies developed by the institute involving Kisan Vigyan Kendras and Self Help Groups also said Prof. Mohan.