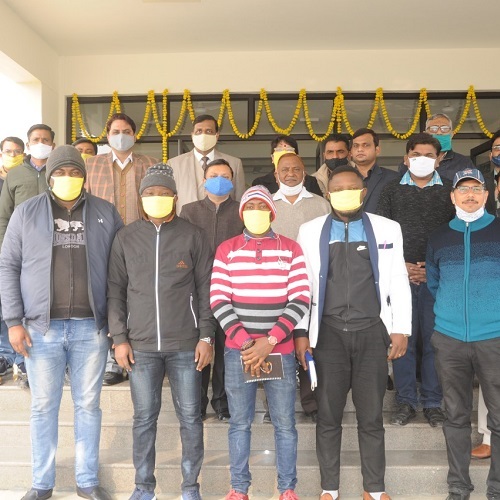 Kanpur: With the commencement of offline classes and joining of four nos. Nigerian students, the newly constructed "Student Hostel cum Guest House" was opened today in a simple ceremony presided by Prof. Narendra Mohan, Director, National Sugar Institute, Kanpur. The new hostel which has been constructed in two years at an expenditure of Rs. 550 Lakhs has 25 rooms with fully furnished kitchen, dining, recreation and common room. In addition to it 06 rooms have been provided for the visiting faculty and other staff.
Requirement of a hostel for exclusive use of foreign students and visiting faculty was long felt as the existing hostels are quite old and the rooms do not have attached toilet facilities and other required infrastructure as expected in an International Hostel, said Prof. Mohan. Here we have provided very good facilities all around with special focus on hygiene, covid protocols and on ambience. The hostel shall have un-interrupted electricity supplies and is equipped with free wi-fi facilities. With this hostel, it would be possible for the institute not only to attract students of other countries but also to conduct more short duration programmes for executives of the sugar industry, he added. Side by side, a world class training centre having seating capacity for 200 delegates is also nearing completion which will enable us to conduct customized training programmes as per requirement of sugar industry, said Prof. Mohan.

04 students from Nigeria have already arrived for taking up studies in regular courses in Sugar Technology, Sugar Engineering, Quality Control & Environment Science and in Industrial Instrumentation & Process Automation, while 08 others shall join on 22nd January 2021. These 08 Nigerian nationals are from National Sugar Development Council, Nigeria who will undertake training in "Customized Training Programme" and after finishing their studies shall work as faculty in the Nigerian Sugar Institute which is being established with the assistance from National Sugar Institute, Kanpur, added Director, National Sugar Institute. Many sugar producing countries viz. Egypt, Sri Lanka, Kenya and Indonesia are in touch with us and we expect more students and trainees from these countries once the covid situation eases out, said Shri Ashok Garg, Education In-charge.