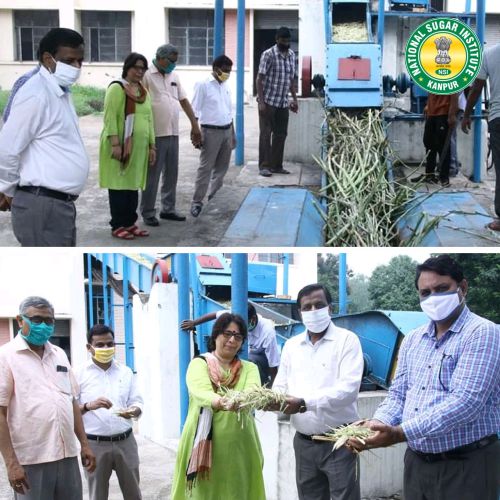 Kanpur: In order to boost ethanol production through alternate feed stocks so as to cope up the requirement for 10% ethanol blending in petrol, National Sugar Institute, Kanpur has started trials on ethanol production from Sweet Sorghum. For the purpose nine varieties of the sweet sorghum have been grown at the institute farm in collaboration with Indian Institute of Millets Research, Hyderabad. For 10% blending of ethanol in petrol, the current requirement is about 3500 million liters and till date the country has achieved a maximum blending level of about 5%. Presently, the main raw material for ethanol production is molasses obtained as a by-product of the sugar industry, which alone is not adequate to meet the blending requirements and thus there is a necessity of exploring potential of other feed stocks. Such clean and green fuels are the need of hour to have lesser vehicular emissions and better air quality index.
We are conducting these trials to identify the most appropriate variety for the Northern India, to assess possibility of inter-cropping with sugarcane so as to enhance farmers income and to assess the yield of ethanol per ton of sweet sorghum, said Prof. Narendra Mohan, Director. Encouraged by the laboratory trials, we have gone for the trials on a larger scale to assess the efficiencies in a better way. This will also help us in understanding the process to be followed for juice clarification, fermentation and distillation. The sweet sorghum cultivated at the institute farm has now been crushed at the Experimental Sugar Factory for production of ethanol. The preliminary trials have indicated juice% sweet sorghum and total sugar content to be about 52% and 12% respectively. The yield of ethanol has been observed as about 50 liters/ton of sweet sorghum which is expected to increase once the process of cultivation, crushing and processing is optimized. The present trial shall help us in taking corrective measures and standardizing the process for future. We shall also work out the economics of the sweet sorghum value chain as the juice from the sweet sorghum can be converted as a sweetener having good shelf life for various other applications, said Dr. Ashok Kumar, Assistant Professor of Agriculture Chemistry.

 To Listen to this News click on the play button.