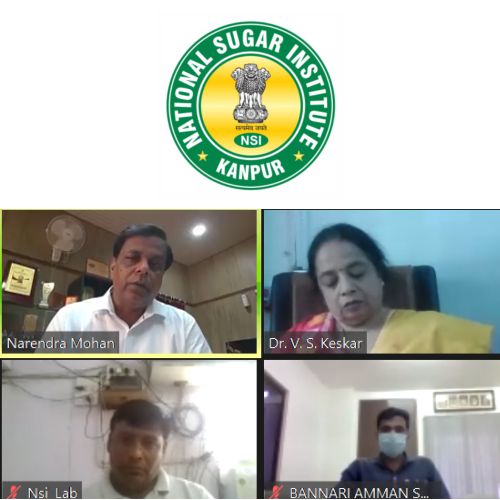 Kanpur: An online training programme on "Good Laboratory Practices and Quality Control" was organized today by National Sugar Institute, Kanpur for the Quality Control personnel from sugar factories. The programme was attended by 150 such personnel including 06 from various sugar factories of Nigeria. In his inaugural address, Prof. Narendra Mohan, Director, stressed upon need for setting up Quality Control Laboratories in sugar factories in order to analyse the sugar and sugar house products as per standard protocols. Being an essential commodity of use by industry and a common man, the matter needs greater importance for product quality assurance. We have standardized the protocols in this regard and soon on behalf of Bureau of Indian Standards, a standard lay out of laboratories shall be released.
In the first lecture, Shri Mahendra Pratap Singh, Sugar Technologist, presented details of "Quality Control Mechanism" required in a sugar factory with special emphasis on laboratory analysis. We have to move forward from the conventional approach adopting latest analytical techniques to have better accuracy and reproducibility of results. Modern analysis in a sugar factory is not all about determination of sugar content and purity but is much more extended to analysis of input clarification agents and determination of phosphate, calcium, dextran, starch, invert sugar and colour of juices, syrups, sugar and other process intermediates. He also presented standard formats developed by National Sugar Institute, Kanpur for recording and reporting such data through daily and weekly reports.
Dr. Sudhanshu Mohan, Jr. Scientific Officer, highlighted the importance of calibration of glassware, laboratory equipment and instrument for being a part of Good Laboratory Practices. Since, most of the sugar factories and even analytical laboratories lack in this aspect, hence, for the same sample, different results are obtained from different laboratories. He elaborated the mechanism of calibration of glassware and some of the principle laboratory instruments viz. spectrophotometer, pH meter, electronic weighing balances and digital Saccharimeter etc.
Dr.(Mrs.) Vasudha Keskar, Managing Director, M/s Maarc Labs Pvt. Ltd., Pune and Referee, International Commission for Uniform Methods of Sugar Analysis stressed upon colour based quality control system as change in colour value gives a better indication of processing efficiency and ultimate product quality. For trade of sugar across the globe, besides purity, colour is the principle parameter, she added. She detailed about "Sucroscan" and "Aquascan" systems developed by her for carrying detailed analysis of sugar and water in sugar factories.
The last session was conducted by Dr. V. P Srivastava, Asstt. Professor Organic Chemistry, where he extensively described the standard methods for determination of purity, starch, colour, dextran and sulphur-dioxide content in sugar. Now, many sugar factories are producing raw sugar in India for the purpose of exports, hence, analysis of sugar for such parameters has gained importance considering the buyer's requirement, he added.
To Listen to this News click on the play button.