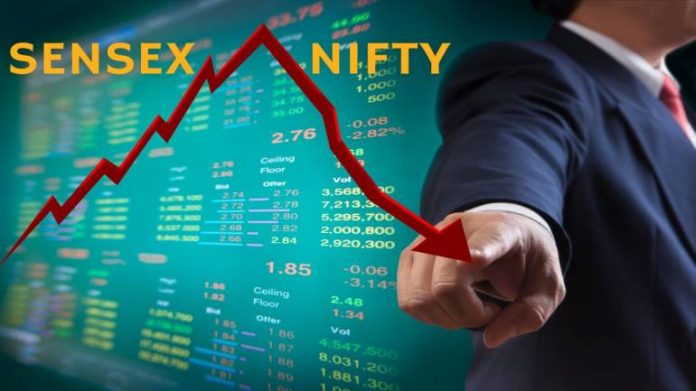 Image Credits: Money Control
We had mentioned in Wednesday's closing report that Nifty, Sensex might rally. The major indices of the Indian stock markets were volatile on Thursday and closed with small losses over Wednesday's close. On the NSE, there were 964 advances, 540 declines and 65 unchanged. The trends of the major indices in the course of Thursday's trading are given in the table below:
Image Credits: Money Life

The market indices have not been able to break out higher and instead have been under tremendous pressure. It is like that the market would head lower with Nifty heading towards 10,000.
The Finance Ministry has been asked to lower the existing export duty on sugar to zero in the wake of bumper domestic production this year, Union Food Minister Ram Vilas Paswan said on Thursday. We have sent our recommendations to the Finance Ministry three weeks ago for reducing duty," Paswan told reporters here. At present, there is 20% duty on export of sugar. According to the industry body Indian Sugar Mills Association (ISMA), sugar production of 295 lakh tonnes is expected this year, which will be over 92 lakh tonnes more than last year. EID Parry India shares closed at Rs298.55, up 1.91% on the NSE.
Global software major Infosys on Thursday said it will soon open a technology and innovation hub in the US state of Connecticut and hire about 1,000 American workers by 2022. The hiring of Americans is seen as a fall-out of US President Donald Trump's executive order on H1-B visas in April 2017, as clients in North America contribute about 60% of the $10.3-billion company's software export revenue annually. Infosys shares closed at Rs1,182.50, up 0.09% on the NSE.
Private airline Jet Airways said it will introduce 144 new weekly flights in the first phase of its upcoming summer schedule. "As part of the new schedule, Jet Airways will strengthen connectivity between the country's capital and the Northeastern region via a bouquet of non-stop services including thrice a week flights to Aizawl and Jorhat and four times a week flights to Silchar from Delhi," it said in a statement. The carrier would also begin a daily, non-stop service between Mumbai and Tiruchirappalli, Tamil Nadu, and a new direct service between Tiruchirappalli and Delhi. Among other destinations, Jet Airways will also connect Patna with non-stop flights to Mumbai, it said. Jet Airways India shares closed at Rs721.90, up 0.97% on the NSE.
The US dollar traded mixed against other major currencies as investors were sifting through the latest economic data from the country. Advance estimates of US retail and food services sales for February 2018 came in at $492 billion, a decrease of 0.1% from the previous month, missing market consensus of a 0.4% gain, the Commerce Department said on Wednesday. "Retail sales continue to disappoint, especially the biggest ticket auto and furniture components. GDP estimates will be revised down again," said Chris Low, chief economist at FTN Financial, in a note. Meanwhile, the Producer Price Index for final demand advanced 0.2% in February, seasonally adjusted, in line with market estimates, the US Labour Department reported. On an unadjusted basis, the final demand index increased 2.8% for the 12 months ended in February. There are many common factors between the trends in the US dollar and the Foreign institutional investors' net investment in emerging markets like India and there may be a small pull-out from India, if these trends continue.
The top gainers and top losers of the major indices are given in the table below:
Image Credits: Money Life

The closing values of the major Asian indices are given in the table below:
Image Credits: Money Life