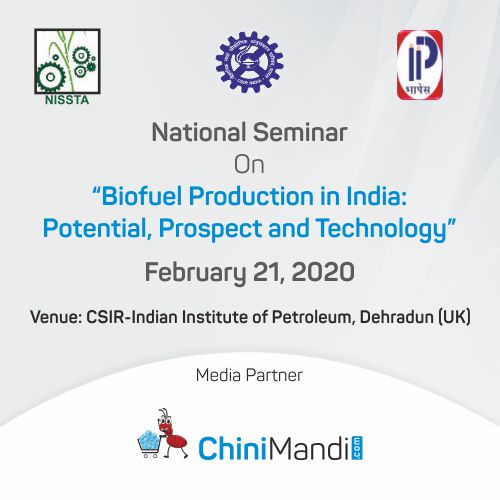 Uttarakhand: Sustainability of the sugarcane industry relies heavily on the realization that sugar, molasses and bagasse can no longer be considered as the final products of a sugar factory. Innovation through biotechnology has the potential to provide a sustainable, competitive edge to the value addition of sugarcane products and processes.
North Indian Sugarcane & Sugar Technologists' Association (NISSTA), an autonomous body of professionals engaged in sugar and allied industry, be it sugarcane scientist engaged for development of high sugar and high yielding variety of sugarcane or technocrats engaged in production of sugar to share their experience and knowledge and CSIR-Indian Institute of Petroleum Dehradun, Uttarakhand established in 1960 by Govt. of India as one of the constituent laboratories of Council of Scientific and Industrial Research (CSIR) dedicated to Research & Development in the downstream hydrocarbon refining sector as well as alternative fuels, have come together to organize one-day national seminar on Feb 21, 2020 on "Biofuel Production in India: Potential, Prospects and Technology" at CSIR Indian Institute of Petroleum, Dehradun.

The programme is likely to be attended by representatives of sugar and Ethanol manufacturers, Distillers in India, eminent scientists and students from Petroleum institute and Sugar Institute all over India. All India Distillers Association established in 1953, the sole apex representative body of alcohol industry and distilleries have extended their support and co-operation for this useful program of Bio fuel. The organizing committee also invites paper presentations.
To register contact North Indian Sugarcane and Sugar Technologists' Association – 09450364369 / vipin.be@yahoo.co.in
 To Listen to this News click on the play button.