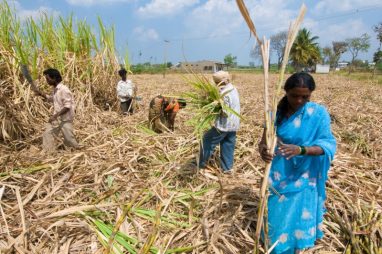 Sugar mills decided to pay FRP in one installment, but have not made clear that when they will clear it. The sugarcane farmers are likely to be in trouble with such a role of sugar mills.
To douse the escalating conflict between sugar mills and farmers, millers agreed to give a one-time FRP, but have not mentioned the timeline of the due payment, following which cane growers would be affected again. As per reports, chances are very low that farmers will get their FRP in one installment till the end of March.

It has been more than two months since the commencement of crushing, but many mills yet have not paid the FRP amount. The rule mandates that FRP amount should be deposited to the farmers' bank accounts within 14 days after the sugarcane harvest is handed over to the factory owners, but millers failed to do so. They are citing their inability to pay farmers the actual FRP, due to falling prices of sugar in the domestic market.
The protests erupted by the decision of sugar mill owners to pay sugarcane farmers at the rate of Rs 2,300 per tonne of cane crushed instead of the full FRP (Fair and Remunerative Price). Led by Swabhimani Shetkari Sanghthana, the sugarcane farmers in Kolhapur, Sangli, Satara and Solapur districts had torched offices of sugar mills and locked their field offices. It was called off after the truce between Swabhimani Shetkari Saghtana and sugar mills.
The economics of the rural sector in sugar belt villages are mainly dependent on the FRP they receive from sugarcane.
Download ChiniMandi News App: http://bit.ly/ChiniMandiApp