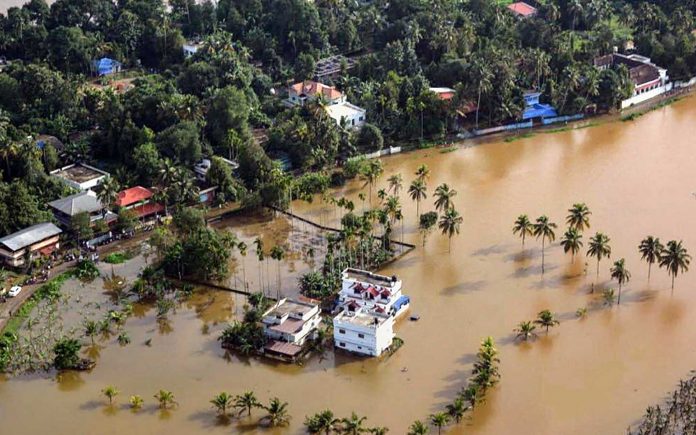 Thiruvananthapuram: At least 29 deaths have been reported and nearly 54,000 people have been rendered homeless as incessant rain continues to lash nearly half of Kerala. The worsening flood situation in Kerala has forced the authorities to open all the five gates of the Idukki Hydel Project and shutters of over two dozen dams.
Due to incessant rain, dam reservoirs and rivers are overflowing, sections of highways have collapsed and hundreds of homes have been swept away in severe flooding in more than half of Kerala, the officials said.
Navy launches 'Operation Madad'
Five columns of Army have been deployed in the state's seven severely-hit northern districts, out of Kerala's 14, to help evacuate people and to build makeshift bridges even as the Indian Navy's southern command launched 'Operation Madad.'
Navy's southern command was put on alert after the water level in Periyar river rose amid concern that parts of Wellingdon Island in Kochi could be inundated. Almost all 40-odd rivers in the state are in spate, the officials said.
Northern and central Kerala has been battered by heavy rains due to the Southwest monsoon since August 8, which has left 29 people dead, including three on Friday.
Of them, 25 died in landslides and four in drowning. State officials said a total of 53,501 people are now housed in 439 relief camps across the state.
Several tourists were barred from entering the hilly Idukki district after roads caved in at many places.
Army soldiers were building small bridges to evacuate people stranded at various places in Kozhikode and Wayanad. A red alert was issued for Idukki and its adjoining districts in view of the possibility of release of more water from the Idukki reservoir.
At least 50 tourists, including 24 foreigners, stranded at the Plum Judy resort at Munnar since Wednesday were rescued and taken to safer places, state Tourism minister Kadakampally Surendran said.
People living downstream of Periyar river in Kochi, and Cheruthoni river in Idukki have been warned of a possibility of inundation of banks.
The water level had crossed the maximum storage capacity of reservoirs of 24 out of the state's 58 dams, forcing officials to release the water by opening the sluice gates, including three of the Idukki reservoir. Two more shutters of the Cheruthoni dam, part of the Idukki reservoir, the biggest arch dam in Asia, were also lifted.
One shutter was opened Friday yesterday after a gap of 26 years.
Centre monitoring flood situation in Kerala
Earlier on Friday, Kerala Chief Minister Pinarayi Vijayan reviewed the flood situation and relief works being undertaken by the Army, Navy, Air Force, Coast Guard and the NDRF.
"Due to the increase in the water level at Idukki dam, it is essential to release water three times (more) than what was being released now," Vijayan said, adding that this will lead to rise in the water levels of Periyar river and its tributaries. He appealed to people to be vigilant.
Vijayan has cancelled all his public functions till August 12 and will monitor the situation from the state capital.
Union Minister Alphons Kannanthanam said he discussed the flood situation in Kerala with Home Minister Rajnath Singh, who assured him of all possible help. Singh also spoke with Vijayan and will make an aerial survey of the flood-affected areas on Sunday.
"The Government of India is providing all the required assistance including services of armed forces, disaster management team and other required assistance. Any other immediate assistance requested by the Government of Kerala will be provided," Alphons said in a Facebook post.
Col Ajai Sharma, the commandant of DSC Centre, who is overseeing relief and rescue operations, said five columns of Army have been deployed in the northern districts since last night.
"The haphazard development along the streams has affected the natural flow of rivers, which is a challenge right now," he said.
Small bridges have been constructed to evacuate stranded people in various places in Kozhikode and Wayanad areas, and rescue operations are currently underway.
"The situation is under control," he said.
IAF deploys helicopters, transport planes for Kerala relief operation
The Indian Air Force (IAF) has deployed five An-32 transport aircraft, two Mi-17 V5 helicopters and an Advanced Light Helicopter (ALH) for rescue and relief operations in the rain-devastated parts of Kerala.
Five An-32 transport aircraft were deployed to transport National Disaster Response Force (NDRF) teams and their equipment from Arakkonam to Calicut, an IAF spokesperson said.
Two NDRF teams from Vijayawada and two teams of Army Engineering Group from Bangalore and Hyderabad have been transported to Calicut, the spokesperson said.
He said two Mi-17 V5 were pressed into service for distribution of relief material and winching operations.