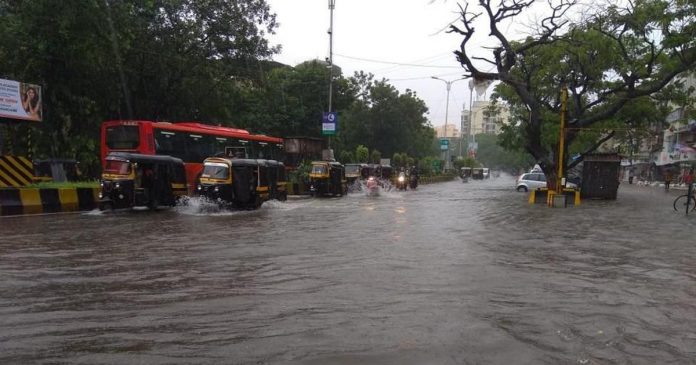 MUMBAI: Mumbai is struggling in non-stop rain that has stalled trains and slowed traffic to a crawl in places that have been flooded. Some trains have been cancelled while others are running late by 10 to 15 minutes as tracks are waterlogged after heavy overnight rain. Schools in the neighbouring districts of Thane and Palghar are closed today because of the rain.With the meteorological department predicting more rain, the city's iconic 'Dabbawallahs' or lunch box carriers have cancelled services for today. On Monday, Mumbai received five times the average rainfall for this season. The Met department has predicted heavy to very heavy rain till Thursday. Maharashtra Chief Minister Devendra Fadnavis said the Navy, the Disaster Management Cell and other departments are working on dealing with the situation.
1. Suburban trains services between Vasai and Virar near Mumbai have been suspended due to accumulation of rain water on the rail tracks, Western Railways said. Local train services between south Mumbai's busy Churchgate station and Vasai are delayed. A railways official said that services between Churchgate and Borivili are normal. The Central Railway's suburban services are running normally at all its corridors despite the heavy rain overnight.
2. Western Railways shared a photo of rail tracks in Nallasopara on the outskirts of Mumbai where the tracks seemed to be completely submerged in water. The water levels near the tracks rose to 460 mm, the railways said.The Mumbai-Ahmedabad Shatabdi Express has been stopped at Nallasopara station with the power supply in the train cut off as a precautionary step.
3. School principals in Mumbai have been asked to assess the situation in their areas and take a call on closure of schools, Maharashtra Education Minister Vinod Tawde tweeted.
4. "We did not collect the tiffins today, because of the water-logging across the city. Our people find hard to wade through their cycle in knee-deep water," Mumbai Dabbawalas Association's spokesperson Subhash Talekar said.
5. Heavy rain with strong winds are being reported from several parts of the city this morning. Extremely heavy rainfall is likely in parts of Greater Mumbai, Thane, Raigad and Palghar between today and Friday, the weather department said this morning.
6. Jet Airways said there could be a 30-minute delay of flights arriving to and departing Mumbai till 3 pm. The airline said they will not be charging a penalty fee today for date and flight changes for travelers who've booked their tickets to and from Mumbai.
7. Potholes have have reappeared on several roads of Mumbai, putting commuters especially those on motorbikes, at risk. Areas like Hill Road in Bandra have developed gigantic potholes, raising questions about the amount of money spent on pre-monsoon repairs.
8. Between 8.30 am and 5.30 pm on Monday, the Colaba observatory recorded a rainfall of 104.8 mm.
9. The city received 54 per cent of its average monsoon season rainfall just in the last 20 day, the city's civic body noted.
10. Private weather foresting agency Skymet said the rainfall may cross 150 mm in the next 24 hours.