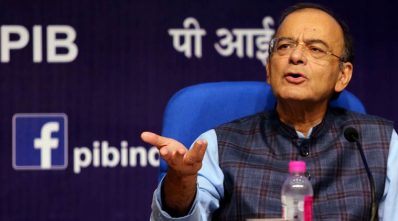 Union Finance Minister Arun Jaitley termed the weakening of the Rupee as a "global phenomenon", saying most currencies are weakening against the Dollar. The minister, who was speaking at the Hindustan Times Leadership Summit in the national capital, said, "Most currencies are weakening against the Dollar, it is a global phenomenon."
The rupee Friday plunged to 74.23 against the US Dollar soon after the RBI monetary policy review, before closing at 73.76, down by 19 paise.

Exuding confidence that India will maintain high economic growth for the next two decades and will perform better than China, the Finance Minister said, "In the last 20 years, China's phenomenal growth dominated the global story. I think this expanding Indian middle class over the next 20 years and its purchasing power is going to globally impact not only the India story but will have its impact outside too."
Jaitley also assured that foreign direct investment flows to India will not be affected.
Stating that there are some more steps on the anvil to narrow the Current Account Deficit (CAD) and bolster forex inflows, Jaitley said the government has already adopted some steps and some more measures are in the works.
Listing some of the steps taken recently, the Finance Minister said the government cut the borrowing target for the current fiscal by Rs 70,000 crore and allowed oil companies to raise $10 billion in one year.
Defending the policies of the Narendra Modi-led government, the BJP minister said, "I don't think the sentiment with regard to the Indian economy is negative."
"I feel left out because nobody needs to come to north block now. They need not come to the north block at all, it is an ideal system," he added.