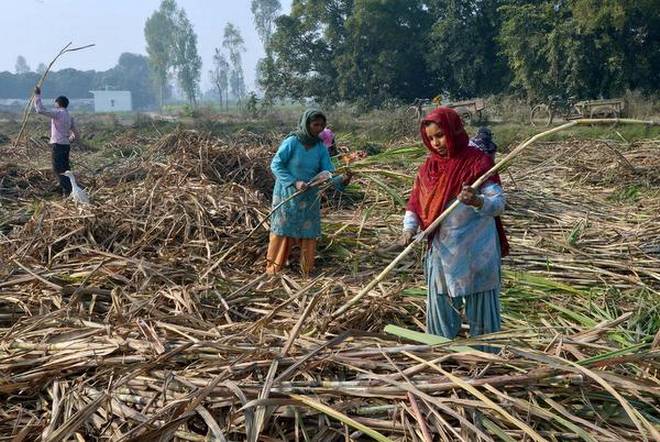 The Union Cabinet will approve minimum support prices (MSP) at 150% of input costs for kharif crops at its next meeting, Prime Minister Narendra Modi assured a group of sugarcane farmers, who met him at his residence on Friday evening.
The PM's reassurance comes as farmers' groups have started agitating on the lack of announcement on MSP rates, even though sowing of kharif crops has begun in most parts of the country. MSPs act as a price signal for farmers and are usually announced in early June, at the onset of the monsoon, when sowing begins.
On Friday, the Indian Meteorological Department announced that the monsoon had now covered the entire country, and the Agriculture Ministry announced that the total sown area has crossed 165 lakh hectares.
Announcements soon
The Prime Minister also assured farmers that the Fair and Remunerative Price for sugarcane for the 2018-19 season will be announced within the next two weeks, and will be set higher than the 2017-18 rate, according to an official statement. The FRP will also incentivise farmers whose crops have a sugar recovery rate higher than 9.5%, Mr Modi said.
More than 140 farmers from major sugar-producing States — Uttar Pradesh, Maharashtra, Karnataka, Uttarakhand and Punjab — met the Prime Minister.
With sugar mills' arrears to cane farmers crossing ₹22,000 crore, the government has approved several relief measures over the last few months, including a production subsidy, buffer stock, set minimum retail price and a hike in import duties, apart from steps to increase ethanol production from sugarcane. The Prime Minister told the farmers that more than ₹4,000 crore in arrears had been paid off over the last seven to ten days as a result of these new policy measures.
Dues reduced: Paswan
Earlier in the day, Union Minsiter for Food and Civil Supplies Ram Vilas Paswan told reporters that the pending dues had been reduced by ₹3,000 crore, with government data showing that the total arrears stood at ₹19,816 crore as on June 25.
Meanwhile, the NITI Aayog has held several consultations with farmers' groups earlier this week regarding the implementation of MSP, according to a person aware of the meetings.
According to government officials, several States have expressed reservations about the three options which Aayog had proposed in March to ensure that MSP is actually available on the ground. The first proposal would make States responsible for procurement, storage and disposal of crops with partial financial support from the Centre; the second would pay farmers the price difference between market rates and MSP without any crop procurement, and the third would involve procurement by private agencies and traders at MSP rates.