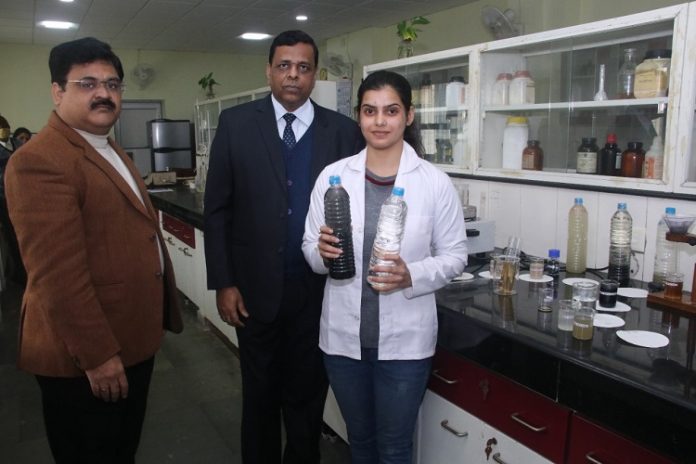 National Sugar Institute, Kanpur has achieved success in producing "Activated Bio-char" from sugarcane bagasse rendered surplus by the sugar factories. At present, bagasse, the fibrous material received after crushing the sugarcane is utilized mostly as a fuel. National Sugar Institute from the last several years is continuously working on developing various value added products utilizing this product so as to enhance revenues of sugar factories and "Activated Bio-char" is another such product in the series.
The product has been developed after almost 1 ½ years of continuous efforts by Ms. Shalini Kumari under the supervision of Dr. Sudhanshu Mohan, Jr. Scientific Officer for treatment of sugar melt and waste waters in sugar factories. At present, sugar refineries use "Ion Exchange Resins" as commercially available to de-colorize their sugar melt to produce superior quality sugar of low colour value. However, use of such resins escalates cost of production, besides generation of substantial quantity of effluents. The product development and laboratory scale trials were aimed to assess possibilities of replacing "Ion Exchange Resins" with the "Activated Bio-char" produced from bagasse, informed Prof. Narendra Mohan, Director. The laboratory scale trial for decolorizing the sugar melt are encouraging with a colour reduction to the extent of 30%.
The "Activated Bio-char" from bagasse has been prepared by carrying out drying the bagasse, grinding and screening it to desired particle size, conducting pyrolysis under anaerobic conditions i.e. in the absence of air and then activating the surface through acid treatment under controlled conditions. About 10% recovery of "Activated Bio-char" has been obtained from the bagasse. Thus, looking to the price of bagasse as Rs. 2000/- per MT, the cost of production is expected to be lower, said Ms. Shalini Kumari, Project Scientist. We have gone for characterization of the product by carrying out multiple analysis like, surface area, pore volume, apparent density, ash and iodine no. etc., she added.
We have also conducted preliminary studies on treatment of waste waters using "Activated Bio-char" from bagasse and results with respect to reduction in BOD (Biological Oxygen Demand) and colour, said Prof. Narendra Mohan, Director. The studies shall be taken further to optimize dosage and assess efficiency on different waste waters. The product shall be one step ahead for making Indian Sugar Industry "Atmanirbhar", he said.