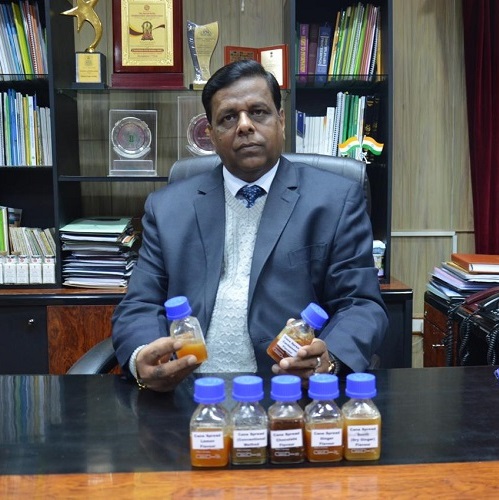 Lucknow: National Sugar Institute, Kanpur is committed for developing value added products in sugar factories so as to enhance their revenue pot for achieving economic sustainability. Keeping this in view and to train the sugar factory personnel, the institute earlier established a "Special Sugar Division" and now is in the process of setting up a 10 tons per day refined sugar unit.
Now, after two years of continuous efforts, the Sugar Technology division of the institute has come out with a "Natural Sugarcane Spread" which can be used in place of commercially available jam and jelly's. Detailing about the product, Prof. Narendra Mohan, Director said that the product made is natural in which no chemical is used for juice clarification and preservation. The basic process involves dual filtration including high degree of filtration using membrane filters, clarification of cane juice using vegetable mucilage's and skimmed milk etc.

About 80-85% of the water present in the juice is removed by carrying out evaporation at reduced pressure. Thus, the product is natural and besides sucrose contains carbohydrates, vitamins, glucose, fructose, proteins, fats and minerals originally present in cane juice with no added sugar. It can be made in various flavours viz. chocolate, ginger, cardamom, mint and lemon using natural extracts depending upon the consumer choice and preferences. It can thus be termed as a real natural nutritious health product also.
Even without adding any preservative, the shelf life of the product is estimated to be one year which can be extended further by adopting superior packaging techniques. As regards economics, from 100 kgs of sugarcane, about 15-16 kgs. of "Natural Sugarcane Spread" can be produced and thus considering the present sugarcane prices, the estimated cost of the product shall be about Rs. 27-28 per kg. only.
Keeping in view the surplus sugar production which has kept the sugar prices depressed and looking to growing market of such natural & chemical free products, this can be value added product for the Indian Sugar Factories, added Prof. Mohan. The institute has already received preliminary inquiries for technical know how from many firms viz. M/s Novel Sugars Ltd., Pilibhit and M/s Balaji Foods, Lucknow.
 To Listen to this News click on the play button.