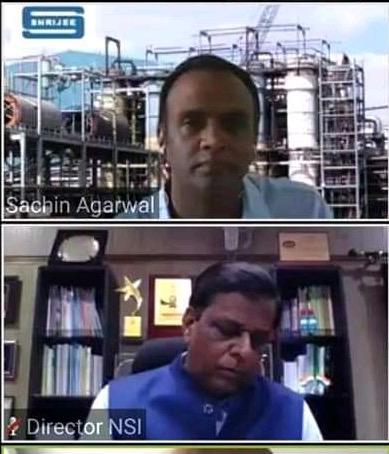 Kanpur: A webinar on "Impact of COVID-19 on Indian Sugar Industry" was organized by National Sugar Institute & Shrijee Engineering Works, Mumbai. Prof. Narendra Mohan, Director, National Sugar Institute addressed the webinar which was attended by more than 250 participants from almost all the sugar-producing states of the country. Expressing his views, in his opening remarks, Prof. Narendra Mohan said due to pandemic resulting into lockdowns there are pressures on sugar industry as consumption and exports take a hit and there is fall in sugar prices, globally and locally. Ethanol, a value added product, which has been a source of revenue generation is likely to take back seat for some time as falling crude oil prices and lower petrol consumptions due to lower vehicular population on roads are likely to adversely effect the 10% ethanol blending. As regards sugar, it would again going to be the question of demand supply balance as after considering carryover of sugar from previous season, 145.8 lakh tonne, production during the current sugar season, 265 lakh tonne, domestic consumption, 250 lakh tonne, expected export 40 lakh tonne, the closing stock at the end of September 2020 may be 115.8 lakh tonne.
Talking about the various short term and long term measures, he opined for two distinct sugar qualities, one for common consumer and another for industrial consumption with dual price mechanism as 60% of the sugar is consumed by bulk or industrial sector and only 40% is used for direct consumption. He also advocated greater percentage of consumer packing which assures weight and sugar packed under hygienic conditions. Looking to the changed consumption scenario as a result of COIV-19, he stressed upon producing nutritive sugars and other products in the sugar industry e.g. bottling of sugarcane juice and production of fortified sugars, low GI sugars, liquid and other special sugars which may also provide value addition. While there is considerable reduction in the sugar production in Thailand who is a potential exporter of sugar and looking to requirement of sugar in Indonesia for sugar of about 600 IU, India may also explore the possibilities of sugar export.

As regards ethanol, he called upon the sugar industry for taking up increasing the blending levels of ethanol in petrol further to 12-12.5% and further so as to enhance off take of ethanol from the sugar industry. He suggested sugar industry to work with automobile industry to form a strategy for changes required to be carried out in the engines. Adopting the most appropriate model of diversion e.g. sugar syrup as per distillery capacity during season and storage of molasses for use during off season is the need of hour, he added. Prof. Mohan emphasized upon sincere efforts for carrying out farm mechanization keeping in view the scarcity of farm labour, development of many other value added items viz. surfactants, nano materials and low calorie sweeteners from the sugar industry. With dietary fibre and fortified sugars while we are already into nutraceutical sector, now the sugar industry has entered into healthcare also by taking up production of sanitizers. Two "I's, Innovate and Implement are going to be the key to success, he said.
Dr. GSC Rao, Chairman, Global Canesugar Services suggested conversion of conventional sugar factories into agri-business complexes with focus on special sugar production as per market requirement. Mr. R L Tamak, Executive Director, DCM Shri Ram Sugars Ltd. called upon the industry for taking measures for minimizing use of fresh water from sugarcane cultivation to processing. Mr. Sachin Agarwal, Vice President, Shrijee Engineering Works who also acted upon as moderator, extended vote of thanks.