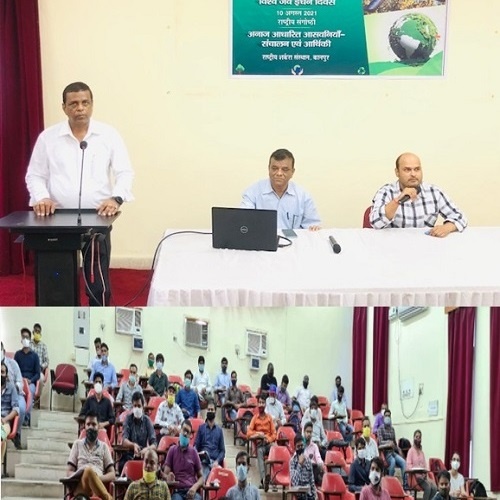 Kanpur: Under the auspices of Aazadi ka Amrut Mahotsav, National Sugar Institute, Kanpur organized a conference on Grain Based Distilleries – Operation and Economics" jointly with All India Distillers' Association on hybrid mode i.e. physical as well as online. This year on 10th August, World Bio-Fuel Day is being organized on the theme "Promotion of Bio-Fuel for a Better Environment" and hence, the topic of the webinar is of much relevance in pursuit of having more ethanol from grains for blending in petrol, said Shri Narendra Mohan, Director, National Sugar Institute, Kanpur. In his inaugural address he mentioned about ethanol being one of the major priorities of 21st Century in India as it has a positive impact on profitability of sugar industry, income of farmers, energy security and on environment.
Sugar industry has a limitation of providing feed-stocks to cope up with the requirement for 20% blending by 2025 where estimated ethanol requirement shall be about one thousand crore litres. Thus, utilization of surplus sugar, rice, maize and even the use of deteriorated grain for ethanol production may result in saving of foreign exchange to the extent of 30,000 crores per annum. Utilization of 165 lakhs tonnes of grain shall benefit the maize and paddy farmers with creation of new investment opportunities, which will also result in job creation in rural areas, said Director, National Sugar Institute, Kanpur.

Shri V.N. Raina, Director General, All India Distillers' Association appreciated the Government policies, particularly, for providing rice from the Food Corporation of India to ethanol producers at a concessional rate of Rs.20 per kg and attractive price of Rs.56.87 per litre for ethanol made out of it. He expressed his confidence for faster implementation of the rice based ethanol units in the country.
Shri K.P. Singh, Director (Operations), M/s Radico-Khaitan Ltd. presented a Alcohol Production Model to be followed in the country keeping in view availability of feed stocks and requirement of ethanol for blending and in potable liquor and chemical industry. The alcohol requirement in all these sectors is continuously increasing and now due to Covid-19 use of alcohol-based sanitizers has also created significant demand for it, he said. We have to earmark ethanol sufficient, ethanol deficient and ethanol very deficient states. Accordingly considering it and looking to the availability of the raw material in the region, the ethanol units may be set up.
Shri H.S. Shukla, Vice President, M/s Oasis Distillers Ltd. presented presented details of technology for producing ethanol from maize, rice, millet (bajra) and wheat. The by-product of grain-based ethanol unit, Distillers Dried Grains with Soluble (DDGS) is important as being excellent cattle feed it fetches very good prices; thus, enabling such units to attain higher profitability, Shri Shukla said.