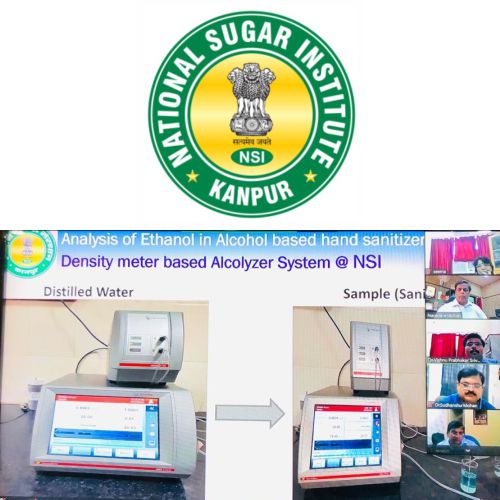 National Sugar Institute, Kanpur conducted an online training programme on "Sanitizer production and quality control" today. In his opening remarks, Prof. Narendra Mohan, Director, described the importance of sanitizers in the present scenario of Covid-19 and expressed his confidence that knowledge imparted during the programme will not only help the upcoming entrepreneurs but also the existing manufacturer's in quality control related issues.
In the first session, Dr.AshutoshBajpai, Prof. Sugar Technology elaborated the process of seeking license for setting up such unit and infrastructure subsequently required. With the aid of video's he described the plant and machinery required and its working. Recruitment of qualified manpower for in-house quality control is essential, he said. Dr.(Mrs.) SeemaParoha, Prof. Bio-Chemistry detailed the various alcoholic and non-alcoholic sanitizer formulations and as to why alcohol based sanitizers are being recommended during the current pandemic. The antimicrobial activity of alcohols can be attributed to their ability to denature and coagulate proteins. The microorganism's cells are then lysed, and their cellular metabolism is disrupted, she added.
During the second session, Dr. Sudhanshu Mohan, Jr. Scientific Officer, briefed the participants about method of preparation of ethyl alcohol and iso-propyl alcohol based sanitizers.Alcohols are considered safe for use as an antiseptic and generally have no toxic effect on the skin, although repeated use may cause dryness or mild irritation.He also provided information on precautions to be taken during production and storage of alcohol based sanitizers as alcohol is highly inflammable.
Dr. Vishnu Prabhakar Srivastava, Asst. Prof. Organic Chemistry details standard methods and protocols for testing of such sanitizers and also the ingredients used for its manufacture. It is not only essential to analyze the product but the raw material also so as to have proper quality control, he stressed. He demonstrated methods for analyzing alcohol, hydrogen peroxide and glycerol content. Stressing on need for analyzing alcohol quality, he described different methods, Gay Lussac Alcoholmeter, Digital Alcometer and Gas Chromotography FID.
 To Listen to this News click on the play button.